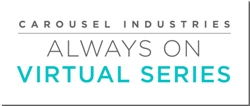 EXETER, R.I. (PRWEB) January 30, 2019
Carousel Industries, a leader in communication and network technologies, professional and managed services and cloud solutions, today announced the launch of its new monthly webinar series—Always On Virtual Series. These complimentary webinars, which augment and are modeled after the company's highly regarded annual live event—the Always On Technology Symposium—will provide technologists, IT leaders, and Carousel clients with education, thought leadership, and inspiration surrounding the technology trends and topics that help them make optimal decisions for their business.
The virtual events will be held on the first Thursday of each month from 1 p.m.– 2 p.m. EST. Each month will include a different topic to be presented by Carousel's own esteemed subject matter experts. During each webinar, Carousel executives will explore technology trends, bust IT myths, and reveal ways to bring IT to the forefront of business transformation.
"For the past five years, Carousel has created and hosted the highly acclaimed Always On Technology Symposium to help IT leaders better educate and teach their business counterparts about existing and imminent mega trends affecting businesses and technologists worldwide," said Jason Viera, Chief Technology Officer, Carousel Industries. "Given the success of these events, the rapid pace of change in technology, and the ask that we deliver content and expertise to a wider audience, we are thrilled to launch the Always On Technology Series to further our mission of bringing expertise to the masses."
The initial webinar on Artificial Intelligence and Machine Learning will take place on Thursday, February 7, 2019 and will be led by Carousel Principal Consultant Ryan Carricato.
Subtopics include:

Deep learning
Neural networks
Machine learning
Bots
Algorithms
Natural Language Processing
Robotic Process Automation
…and more
To register and receive news about upcoming webinars, please visit the Always On Virtual Series site.
About Carousel Industries
Carousel Industries is a recognized leader in helping organizations evolve the way they communicate and orchestrate the flow of information throughout their networks. Carousel enables clients to connect and collaborate the way modern IT users demand and advance from their current network infrastructure to meet tomorrow's standards. With deep expertise across a vast portfolio of technologies, including security, unified communications and collaboration, data center, networking, managed services, and cloud solutions. Carousel can design, implement, and support solutions tailored to meet the unique needs of each client. By offering professional and managed services with flexible deployments in the cloud, Carousel ensures clients achieve agility and utilize technologies in the way most effective for their business.