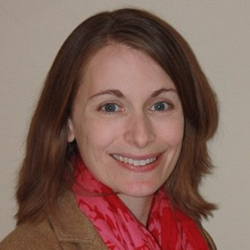 "One of the highlights of working at ATS has been to help drive the launch of the ATS Gives Back Program, where we are donating two radar speed display signs per month to police departments that do not typically qualify for federal grant funding." - Carrie Fedders, Vice President of Sales
HERNDON, Va. (PRWEB) September 16, 2020
All Traffic Solutions, a global leader in traffic safety and smart parking applications, is pleased to announce the promotion of Carrie Fedders to Vice President of Sales for the Traffic & Safety Division. Carrie has been with All Traffic Solutions (ATS) for over 4 years where she previously served as the Director of Sales. In her new role, Carrie will oversee all sales and business development activities for the Traffic & Safety Division. Fedders reports to ATS CEO Andy Souders.
"Since joining ATS, I have been fortunate to work with outstanding teams throughout the organization. It is an honor to be able to provide solutions that will make local law enforcement officers' jobs a little bit easier," said Carrie Fedders. "One of the highlights of working at ATS has been to help drive the launch of the ATS Gives Back Program, where we are donating two radar speed display signs per month to police departments that do not typically qualify for federal grant funding."
As Director of Sales, Fedders was instrumental in developing and executing strategies to achieve ATS's global sales goals. She amplified sales of SpeedAlert24 and InstAlert24 signs on ATS 5 trailers, while showing the value of the TraffiCloud software, which allows law enforcement and municipalities to receive traffic and speed data automatically. Fedders has led the team to support Police Departments, Sheriff's Offices, Veteran's Affairs Healthcare Organizations, Health Departments, Tribal Nations, and National Parks as they navigated their COVID-19 response. With her leadership, sales have increased year over year.
"Carrie's contributions have been invaluable to not only driving the growth of the business, but also creating a great company culture for our employees," Andy Souders, President/CEO of All Traffic Solutions. "Her expertise, insight and energy have had a profound and positive effect on the company. Carrie's passion for results and her exceptional character are the perfect combination for this new leadership role at All Traffic Solutions. I look forward to the ongoing impact she will make as we advance the company in 2020 and beyond."
Please join us in congratulating Carrie on her promotion.
About All Traffic Solutions
All Traffic Solutions (ATS) is a leader in traffic safety and data analytics for Intelligent Transportation System (ITS) and smart parking applications. We help law enforcement, municipal agencies and commercial organizations use data and cloud-supported devices such as web-enabled radar speed displays, conditional messaging technology, and lidar technology to calm traffic, optimize parking availability, share notifications, and improve traffic safety— while maximizing resources and budget.
https://twitter.com/alltrafficsol
https://www.linkedin.com/company/all-traffic-solutions/
https://www.facebook.com/alltrafficsolutions