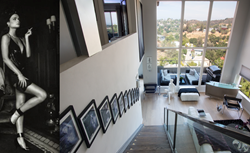 Los Angeles, California (PRWEB) June 27, 2016
Travelers desiring to experience the glamour of Hollywood, the tranquility of Topanga Canyon, and the beauty of Malibu will be elated to find out that they can now rent Carrie Leigh's modern villa on Airbnb.
As the former First Lady of the Playboy Mansion was widely known for throwing the most legendary celebrity parties, Leigh has always had a knack for entertaining guests. Leigh, who adorned editorial layouts and magazine covers, such as Playboy, National Lampoon, Interview, Newsweek, and Muscle and Fitness, now integrates that talent with the knowledge she has gained through working as a photographer, publisher, and civil rights activist to create a uniquely elegant and enjoyable experience, unlike any other on Airbnb.
In 1986, Rolling Stone Magazine read, "[Carrie has] all these dimensions. She can be any woman she wants, and she wants it all." When Leigh's relationship with Hugh Hefner ended, she went on to utilize her creative energy: as a photographer, highly revered by fine art collectors; as a publisher, choosing the content of Carrie Leigh's Nude magazine; as a civil rights activist on reservations raising awareness concerning issues of Native American rights; and, in essence, as a decorator, designing her spacious, bright well-appointed modern home.
Following decades of staying in palatial accommodations during frequent business trips, Leigh was inspired to create a luxury hotel-style space, unique to her expressive identity, for the ultimate stay-cation. From the one-of-a-kind white-and-mirrored furniture to the picturesque views of the mountains, canyons, and city lights, the Artist Hilltop View Villa emulates the high quality of Carrie Leigh's Nude magazine.
Leigh's multifaceted career has sparked tremendous interest in a television series, which she is now working on with New York-based producer, Andrew Scheer. According to her representative, the project will include real-life based experiences, such as Leigh and her husband's involvement in the creation of numerous civil rights claims turned billion-dollar class action lawsuits, and will require a substantial amount of travel.
Rather than leave the villa empty, Leigh desires to share what she has created with those who appreciate true elegance and artistry. Though she has retained the services of Air Concierge, a short-term rental management company, Leigh personally provides customized gifts, wine, coffee, snacks, and more to ensure that her guests are treated to a distinctly memorable and relaxing vacation. To view the "Artist Hilltop View Villa," click here, search "Woodland Hills" on Airbnb, or contact Ryan Danz, founder of Air Concierge, at (760) 846-3983.