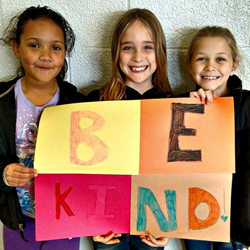 We are thrilled to partner with Carson Dellosa for the Great Kindness Challenge to provide participating schools with additional kindness resources that will help cultivate a culture of compassion and respect in classrooms around the world
COLUMBUS, Ohio (PRWEB) January 15, 2019
Carson Dellosa Education™ announced today its sponsorship of "The Great Kindness Challenge," an annual kindness-promoting initiative started by the global nonprofit organization Kids for Peace.
"We are thrilled to partner with Carson Dellosa for the Great Kindness Challenge to provide participating schools with additional kindness resources that will help cultivate a culture of compassion and respect in classrooms around the world," says Jill McManigal, Co-Founder/Executive Director for Kids for Peace. "Every year, volunteer educators bring the program to schools, and with support from partners like Carson Dellosa, we are able to expand and provide fresh and inspiring new resources to more than 20,000 schools."
Carson Dellosa recognizes the significant role that social and emotional learning play in the classroom and is dedicated to finding fun, simple, and free solutions to help educators, parents, and students create a culture of kindness. As part of the sponsorship, Carson Dellosa will offer more than 30 free printable activities to support meaningful dialogue around kindness in the classroom. These complimentary pages include fun exercises that encourage purposeful acts of kindness, instructional activities to support lessons, Schoolgirl Style™ kindness classroom décor, and much more. These printables can be found at carsondellosa.com as well as the resource center at thegreatkindnesschallenge.com.
"We are incredibly proud to take part in this campaign because kindness largely impacts a child's perspective and emotional experiences. Children often wonder what they can do or how they can make an impact on the world," says Kelly Warfield, Senior Editorial Director for Carson Dellosa. "The Great Kindness Challenge is a perfect way for students to learn that a simple act of kindness can be powerful enough to change someone's day, and perhaps even their life."
The Great Kindness Challenge will run January 28th to February 1st. The challenge marks a great opportunity for schools and communities to unite and teach children the importance of showing kindness. This week-long challenge is open to all schools, classrooms, families, and organizations looking for healthy ways to engage children's social skills.
About Carson Dellosa Education (http://www.carsondellosa.com)
At Carson Dellosa, we believe that learning is everywhere. Whether at school, home, or on-the-go, life is filled with learning moments. As the market-leading publisher of children's supplemental educational products, we've been bridging school and home with innovative solutions for teachers and families for more than 40 years. Our celebrated brands include Carson Dellosa Education™, Spectrum®, Summer Bridge™, Schoolgirl Style™, Thinking Kids™, Rourke Educational Media, and Brighter Child® and are available at more than 10,000 retail locations.
About Kids for Peace
Kids for Peace is a global nonprofit with the mission to create peace through youth leadership, community service, global friendships, and thoughtful acts of kindness. The vision for Kids for Peace is a safe and peaceful world where all people respect and care for each other and our planet. Kids for Peace serves as a model and inspiration for creating this reality with children leading the way, not only for today, but for generations to come. To date, The Great Kindness Challenge, a Kids for Peace program, has impacted more than 10 million students in nearly 20,000 schools located in over 100 countries. Carson Dellosa's sponsorship of this program will help raise awareness of the initiative across hundreds of thousands of schools and communities.