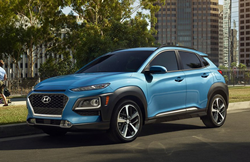 ARDMORE, Okla. (PRWEB) February 19, 2021
As the 2021 Hyundai lineup has made its way to Carter County Hyundai, the dealership is currently running lease specials on many select new models. Such available offers include lease specials for the popular Hyundai Elantra and Hyundai Kona models. Each special is for a 36-month lease and require an initial down payment. Offers do not include taxes in price estimates.
As a winner of various automotive awards in 2020, the Hyundai Kona is available with various lease offers at Carter County Hyundai. Customers looking for a new 2021 Hyundai Kona can lease one for $195 each month for 36 months with an initial payment of $2,599. Otherwise, those wanting a 2020 model can pay $199 per month with $2,599 due at signing. Both offers are for the standard front-wheel drive models with the 2.0-liter four-cylinder engine.
The dealership also has special lease offers on new 2021 and 2020 Hyundai Elantra models. Each option can be leased for $189 each month for 36 months. However, the 2021 model will require a down payment of $2,399 at signing. Meanwhile, 2020 models available for the special can be had for $2,299 due at signing. Similar to the Hyundai Kona offers, new Hyundai Elantra models available in the special are equipped with the 2.0-liter four-cylinder engine and automatic transmission.
Customers in the local area interested in any of the lease specials above are welcomed to contact Carter County Hyundai directly this month. For more information on each model, the dealership can be contacted over the phone at 580-319-4949. You can also find select models on-location at 616 Holiday Drive in Ardmore or visit their website at https://www.cartercountyhyundai.com/.