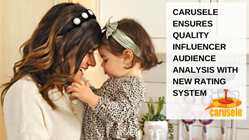 At the end of the day, keeping our clients safe is the number one priority
RALEIGH, N.C. (PRWEB) November 14, 2019
Carusele, an award-winning influencer marketing agency, today announced the release of their enhanced rating system that provides quality assurance for brands on the audience makeup of influencers being considered for a given program. The new system, called qStack™, uses real time data to identify an influencers' audience authenticity, audience engagement, and audience growth. Complementing Carusele's eight-step vetting process, qStack requires that influencers meet or exceed benchmarks in at least two of the three categories in order to be considered for a brand campaign.
"Fake followers and fake engagements are major concerns across the industry," said Jim Tobin, Founder and President of Carusele. "While we've always vetted influencers thoroughly, this new system is designed to allow our clients to see the quality of a given influencer based on real data insights."
"At the end of the day, keeping our clients safe is the number one priority," said Erin Ledbetter, Senior Vice President of Carusele. "Just last week, the FTC released new guidelines and within the hour we had a brief out to every client informing them of the changes. qStack is just another way to keep clients safe as they prepare to partner with new influencers."
Carusele's qStack rating system isn't their first proprietary system for client success. Over the past five years, the influencer agency also rolled out their iStack™ system, ranking the performance of influencers, and cStack™ system, ranking the performance of content, among several others.
About Carusele
Winner of the 2017 Small Agency of the Year Award, alongside 40 other significant industry awards, Carusele leverages real-time data from influencer marketing programs to inform and optimize campaign performance for leading consumer brands and retailers. They're the only agency providing guaranteed results and are well known for developing a series of proprietary algorithms for measuring influencer marketing success.
Learn more about Carusele at: http://www.carusele.com