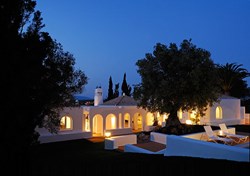 Casa Arte is like a family house that's small and luxurious, and where you receive lots of personal attention.
Berlin, Germany (PRWEB) December 19, 2013
Casa Arte, a stylish boutique hotel on Portugal's Algarve, is now available for rent through Welcome Beyond, a website promoting only the most extraordinary vacation homes and boutique hotels worldwide.
Located on two hectares of private land in the middle of a national park, Casa Arte is an intimate and luxurious small hotel with just 5 rooms run by husband and wife team Freek Mulder and Sarah Kuns. It is just minutes away from deserted beaches on the Algarve.
Each room in the hotel has been uniquely designed: While one has a cosy fireplace, another features a beautiful big balcony or a chic bath. And they all feature original art pieces that are also for sale.
Guests may dig into delicious and freshly baked pancakes, or whatever else they'd like for breakfast, whenever they'd like. There are no set meal times at Casa Arte. Freek is the hotel's chef and his cooking is traditional French with a modern twist. All of the ingredients are fresh and natural, whether it's a salad or a boiled crab. The outside oven is also ideal for eating alfresco. Other amenities at Casa Arte include the cool swimming pool and indulging in-room massages.
Portugal's south-western coast is quite different from the rest of the Algarve: "It's quieter and a bit more rough. The beaches around us are like having a private beach. You still have a lot of places that are not overrun with tourists." Sarah explains. Lagos' stunning beaches are within a 10 minute drive and perfect for water sports. The south-west coast's unspoiled nature is definitely worth a day trip, as are the surrounding charming villages.
Sarah recommends to come anytime during the year but to avoid the hot and busy months of July and August. Proudly she concludes "The biggest reward for us is to see the whole Casa Arte project come to life the way we imagined it to be."