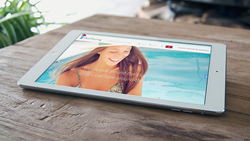 Homeowners in many of our markets are increasingly looking toward vacation rental income to help offset mortgage and home ownership expenses, while expanding their real estate assets.
BEND, Ore. (PRWEB) August 30, 2018
Cascade Sotheby's International Realty announced today that it has partnered with the RedAwning Group to support the brokerage's entry into vacation rental property management and initiate new lead generation for agents and vacation property sales. Cascade Sotheby's real estate clients can use the program seamlessly for home sales and purchase or rental property revenue streams.
Adding the RedAwning solution to Cascade Sotheby's portfolio of services, gives agents the opportunity to offer clients rental management services that are in high demand, while keeping their focus on real estate.
RedAwning, the world's largest branded collection of vacation properties with the industry's widest distribution network, is an end-to-end solution for distribution, reservation, and marketing services for vacation rental owners and provides one-stop access to:

All the major online travel websites with listing optimization and strategy support
24/7 reservation and guest support for all reservations
Payment processing and credit-card decline handling
A listing, bookings, rates and calendar management portal
A free mobile app for managing bookings and reviewing revenue on the go
A Free RedAwning hosted website
Free, Amazon Alexa for Hospitality devices, in-home
"Homeowners in many of our markets are increasingly looking toward vacation rental income to help offset mortgage and home ownership expenses, while expanding their real estate assets," said Michael Kosmin, COO of Cascade Sotheby's. "We see this as a great opportunity to capitalize on these market trends, increase the strength of our brand portfolio and ultimately generate more sales and listings for our agents."
RedAwning will support Cascade Sotheby's agents by providing rental income analysis pre- and post-sale, and providing tools to support easy ongoing property management combined with complete marketing and distribution through RedAwning's industry-leading global network. RedAwning will also provide reservations and payment processing, guest communications, and a fully-hosted, Cascade Sotheby's branded booking website.
"RedAwning is thrilled to partner with Cascade Sotheby's to help homeowners market their vacation properties, help Sotheby's agents build their business, and provide new high-quality properties to travelers," said Tim Choate CEO and Founder of RedAwning Group. "Partnering with realtors to enable their agents to drive sales performance, while expanding our base of exclusive properties, is a great way to grow the vacation rental marketplace—and leverage rentals to increase sale velocity."
Homeowners interested in finding out more about the program can visit Cascade Sotheby's website here.
About RedAwning
RedAwning Group has been a leading innovator in the vacation rental industry since 2010, with a mission to redefine the customer journey for guests, hosts and managers and to drive new approaches that make the booking and staying experience more consistent, easier, safer and better for all.
RedAwning Group presents the world's largest collection of vacation properties to the largest alternative accommodations marketing network, and includes a comprehensive layer of services and support with every stay. With over 100,000 unique properties in over 10,000 destinations, all instantly bookable with a common set of terms and services, the RedAwning Collection simplifies vacation rental travel for guests and property managers alike. The RedAwning Network then distributes those properties as the largest single U.S. supplier to every major travel website, including Booking.com, Expedia, HomeAway/VRBO, TripAdvisor, and Airbnb. RedAwning also operates a number of exclusive vacation property booking websites, including Perfect Places, VaycayHero, TravelPro Rentals, and RedAwning.com, and powers many more.
The company is profitable, rapidly growing, and backed by Silversmith Capital Partners.
For more information on RedAwning or Redawning services, please visit our website at http://www.redawning.com
About Cascade Sotheby's International Realty
Harnessing the worldwide recognition and prestige of the Sotheby's name, Cascade Sotheby's International Realty expertly represents the most distinctive properties at every price range. The firm's 11 strategic locations throughout Oregon and southern Washington form the most expansive luxury real estate network in the Pacific Northwest. Cascade Sotheby's International Realty brokers are masters of their craft, combining local expertise and global connections to artfully unite extraordinary places with extraordinary lives. The firm achieved a billion dollars in sales in the first 11 months of 2016, joining only 25 Sotheby's International Realty affiliates in the world with this distinction. Exceptional service, continual innovation, and unrivaled market knowledge continue to set Cascade Sotheby's International Realty apart as an industry leader.
Contact: Claudia Johnson, Public Relations, 503-799-2220