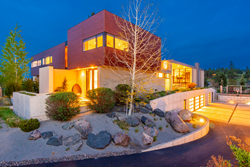 We made the move to Cascade Sotheby's to enjoy greater access to the white-glove services, marketing resources and exceptional reputation the Sotheby's brand exemplifies.
BEND, Ore. (PRWEB) July 17, 2018
Cascade Sotheby's International Realty brokers score listing for incomparably designed home on the signature 17th hole at one of Bend's most desirable locations, Tetherow Golf Club. The owners of the $3.9 million home at Tetherow choose the elite husband/wife broker team of Ellie Anderson and Caleb Anderson—and the Sotheby's brand—for the innovative resources, global reach and precise marketing prowess required to sell the unique property.
The stunning one-of-a-kind home was designed by Bend architect Eric Meglasson. Meglasson is best known for his modern designs that bring the outside in and offer livable luxury for families. As a Bend native, Meglasson has an engrained appreciation for the land, the climate and the natural beauty of the region and the terrain inhabited by the Tetherow development.
According to Meglasson, the house was designed to bring the terrain and feel of the Tetherow location into the home—a creek-like water feature runs through the front entry, courtyard and under the dining room to the backyard, giving the illusion and feeling that it is running through the home. This incredible property also boasts:

A courtyard with indoor/outdoor connections
A private location on a mountain-view acre lot
Sustainable materials and design features
Radiant heat throughout the structure
Indoor/outdoor water feature with a dining room that bridges over the water
Connection to nature and outdoors physically and visually like a rock climbing wall inside and a bocce ball court outside
Warm, inviting private spaces and entertaining spaces
"I was totally inspired by the topography and character of the neighborhood, the contours of the land, the light and the feel of the landscape—it just begged to create a natural connection with the outdoors in every room," says Meglasson, whose father was the chief architect of the famous Phil's Trail mountain bike trail network in Bend. "We designed a warm and livable family home with plenty of areas for unique entertaining as well as amenities for a growing active family. The home pays homage to the Bend lifestyle—from its location and recreation spaces to its work space and storage for kayaks, bikes and other outdoor gear."
Another key point for high-end buyers is this exquisite home was also designed to accommodate the growing trend in relocation to Bend for employees who can work remotely. A recent article on CNBC cites Bend as one of the foremost destinations for telecommuters wanting to escape the pace of Silicon Valley and can work remotely to enjoy more work/life balance.
The home has a definitive home/recreation/work separation—the office was intentionally designed to be separate from the home space, so that the owners of the home have a true getaway work experience on site. The office space affords stunning Cascade views, two separate work areas, a common meeting space, as well as an outdoor deck attached to the office.
According to a recent report by the real estate professional's resource Keeping Current Matters, another trend that has been emerging for some time now is the contrast between inventory and demand in the premium and luxury home market versus the starter and trade-up home market, and what that in turn is doing to prices: inventory continues to rise in the luxury home market which is causing prices to cool.
Cascade Sotheby's Principal Managing Broker for Bend, Marta Boelens, points out that there is good reason sellers need brokers expert in selling higher end homes. The average price point for Cascade Sotheby's agents in Bend is 25% higher than other agents in the Central Oregon market.
The Andersons recently moved their multi-million-dollar brokerage to Cascade Sotheby's from RE/MAX to leverage the Sotheby's global luxury brand that their high-end clients expect.
"We made the move to Cascade Sotheby's to enjoy greater access to the white-glove services, marketing resources and exceptional reputation the Sotheby's brand exemplifies," says Ellie Anderson, who has consistently been in the top 5% of Bend-area real estate professionals. "Our clients expect access to the resources and expert services of the Sotheby's brokerage network—we are ecstatic to offer those to our loyal clientele."
The Andersons now join the growing team at Cascade Sotheby's International Realty, which exceeded $1.3 billion in closed sales in 2017 and continues its innovative approach to uniting extraordinary lives with extraordinary homes building on these statistics:
$30 million in company revenue in 2017
325% sales growth from 2015 to 2017
More than 2.5 times the market share in Central Oregon than closest competitor
37% market share in the luxury home market ($1 million and above)
Luxury home sales volume at 3.6 times that of the nearest competitor
Cascade Sotheby's market share at Tetherow surpasses all other brokerages combined:
Market Share-Tetherow

55.71% all actives, pending, sold past 12 mths
73.58% Land
51.23% Residential
Average Prices-Tetherow (Past 12 months)

Active Residential- $1,452,039, 23 Active
Pending Residential-$1,279,047, 10 Pending
Sold Residential- $1,135,306, 56 Sold
Cascade Sotheby's affiliation with Sotheby's International Realty offers a distinctive advantage to reach an affluent global audience. With over 20,000 sales associates in approximately 880 offices and 69 countries and territories, the Sotheby's network provides a profound international reach to market properties in Oregon and SW Washington.
About Sotheby's International Realty Affiliates LLC
Founded in 1976 to provide independent brokerages with a powerful marketing and referral program for luxury listings, the Sotheby's International Realty network was designed to connect the finest independent real estate companies to the most prestigious clientele in the world. Sotheby's International Realty Affiliates LLC is a subsidiary of Realogy Holdings Corp. (NYSE: RLGY), a global leader in real estate franchising and provider of real estate brokerage, relocation and settlement services. In February 2004, Realogy entered into a long-term strategic alliance with Sotheby's, the operator of the auction house. The agreement provided for the licensing of the Sotheby's International Realty name and the development of a full franchise system. Affiliations in the system are granted only to brokerages and individuals meeting strict qualifications. Sotheby's International Realty Affiliates LLC supports its affiliates with a host of operational, marketing, recruiting, educational and business development resources. Franchise affiliates also benefit from an association with the venerable Sotheby's auction house, established in 1744.
About Cascade Sotheby's International Realty
Harnessing the worldwide recognition and prestige of the Sotheby's name, Cascade Sotheby's International Realty expertly represents the most distinctive properties at every price range. The firm's 11 strategic locations throughout Oregon and southern Washington form the most expansive luxury real estate network in the Pacific Northwest. Cascade Sotheby's International Realty brokers are masters of their craft, combining local expertise and global connections to artfully unite extraordinary places with extraordinary lives. The firm achieved a billion dollars in sales in the first 11 months of 2016, joining only 25 Sotheby's International Realty affiliates in the world with this distinction. Exceptional service, continual innovation, and unrivaled market knowledge continue to set Cascade Sotheby's International Realty apart as an industry leader.
Contact: Claudia Johnson, Public Relations, 503-799-2220