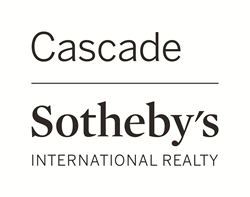 Cascade Sotheby's innovative marketing tools, technology and elite team enable me to better serve my clients.
LAKE OSWEGO, Ore. (PRWEB) September 11, 2018
Cascade Sotheby's International Realty continues to grow its presence in the high-end luxury home market with new premier brokers signing on under the internationally-renowned Sotheby's brand. Already in 2018, the brokerage has welcomed 47 new agents in Oregon representing $401.4 million in closed revenue.
Now, Cascade Sotheby's welcomes one of Portland metro's premier luxury and new construction real estate experts and top producers, Matthew Tercek. Tercek, who leaves Christie's Luxe Platinum Properties in Lake Oswego to join the Cascade Sotheby's team, produced more than $30 million in closed sales in the last 12 months and brings many of his illustrious listings with him.
"I made the move to Cascade Sotheby's to better serve my clients—the internationally-recognized Sotheby's brand has the established presence and prestige in markets that are now looking to relocate in the Pacific Northwest," says Tercek, who sees a significant influx of prospective buyers from the Bay Area, Seattle and Asia looking in Oregon and recognizes the power of the network. "The implementation of digital services has always been an important aspect of my business. Being able to leverage the innovative marketing tools, technology and team that Cascade Sotheby's offers brokers will result in a better client experience from start to finish."
According to a recent report by the real estate professional's resource Keeping Current Matters, a trend that has been emerging for some time now is the contrast between inventory and demand in the premium and luxury home market versus the starter and trade-up home market, and what that in turn is doing to prices: inventory continues to rise in the luxury home market which is causing prices to cool.
One of Cascade Sotheby's principal managing brokers in the Lake Oswego office Michael Babbitt points out that as the premium and luxury home market is turning into more of a buyers' market, there is all the more reason sellers need brokers expert in selling higher end homes. In fact, of special note, the average price point for Cascade Sotheby's agents is 33% higher than other agents in the Portland and SW Washington market.
"Cascade Sotheby's is honored to sign such premier agents like Mathew—he's a proven expert in the luxury home and new construction categories and we welcome him to the team," said Deb Tebbs, CEO and franchise owner, Cascade Sotheby's International Realty. "Signing so many new brokers already this year is an incredible testament to the reputation of our team, the power of the Sotheby's brand, a world class network, and global reach to larger markets."
Cascade Sotheby's, which has expanded throughout the Oregon and SW Washington real estate market, reported $1.3 billion in total transaction volume in 2017, representing $32 million in company revenue and a 325% increase in sales growth in the last two years. With 300+ brokers and 10 strategic office locations in Oregon and SW Washington, Cascade Sotheby's is rated in the top 25 among Sotheby's affiliates.
"Our brokers offer a white glove experience to all clients regardless of the price of their home and anticipate the clients' needs to deliver some of the best service in the market—that's the hallmark of our success," says Tebbs.
About Cascade Sotheby's International Realty
Harnessing the worldwide recognition and prestige of the Sotheby's name, Cascade Sotheby's International Realty expertly represents the most distinctive properties at every price range. The firm's 11 strategic locations throughout Oregon and southern Washington form the most expansive luxury real estate network in the Pacific Northwest. Cascade Sotheby's International Realty brokers are masters of their craft, combining local expertise and global connections to artfully unite extraordinary places with extraordinary lives. The firm achieved a billion dollars in sales in the first 11 months of 2016, joining only 25 Sotheby's International Realty affiliates in the world with this distinction. Exceptional service, continual innovation, and unrivaled market knowledge continue to set Cascade Sotheby's International Realty apart as an industry leader.
Contact: Claudia Johnson, Public Relations, 503-799-2220