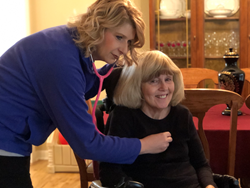 Our wheelchair pads can help prevent pressure injuries, yet are affordable," said Mangold. "We want caregivers to have the best outcomes for their patients."
CINCINNATI (PRWEB) June 06, 2019
Cincinnati soft goods manufacturer Casco Manufacturing Solutions created a wheelchair cushion for one patient suffering from a long-time, Stage 3 pressure injury.
Its success in healing her wound after only three months has spurred the manufacture and sale of the Casco Prevention Chair Pad.
The Casco Prevention Chair Pad is the product of two years of collaboration with Casco engineers and Shelly Byington, an R.N. who is wound care certified (W.C.C.) and a quality consultant and healthcare expert with Casco.
Byington is a traveling nurse who visits about 30 home-bound patients each week throughout mid- to southeastern Ohio. She often travels more than 300 miles a week tending to homebound patients under a doctor's care.
"One of my patients had been suffering from a Stage 3 pressure injury on her coccyx for 18 months," said Byington. "I noticed the injury was located in the precise spot where Mary's backside met her wheelchair pad surface."
Byington wondered if Mary's wheelchair cushion had caused and continued to aggravate the nagging wound. Although she and Mary's doctor discussed the problem on a regular basis and tried a variety of wheelchair pad options, little progress was made over time. Mary had been on a wound VAC and had had traditional wound therapies with only slight improvements, said Byington.
In frustration, Byington began a conversation with Casco president and CEO Melissa Mangold about a new, higher-quality wheelchair pad that might be able to reduce Mary's pressure points, allowing the pressure injury on her coccyx to heal.
Their talk set in motion a two-year collaboration with Casco and Byington on designs, fabrics and foam cushions to create the custom-manufactured pad.
"The wheelchair pad was designed to provide good core and body support, relieving heat and pressure and preventing pressure injuries from forming," said Byington. "The Casco pad gives her good support and has not re-developed into an ulcer. So that's huge for her. Once we got her healed, she has stayed healed and we've not had any other issues."
Mary, 69, who has been in a wheelchair almost exclusively for 20 years due to complications from multiple sclerosis, said she noticed immediate improvement after beginning to use the Casco Prevention pad. Not only was the Casco pad more comfortable than her old one, she said it allowed her more stability in her chair.
Best of all, her Stage 3 wound began healing.
Within three months of using the Casco Prevention pad, the wound was completely healed. Mary has now been using the Casco Prevention pad continuously for 10 consecutive months.
Most important for Mary is that she has been able to resume her usual busy lifestyle.
"One thing I like about this cushion is that it's three inches thick, which allows me to keep my feet on the ground to take care of my business," said Mary. "Every year we go to Hilton Head—about 30 of us to the beach. We have six grandchildren my husband and I watch a lot. It keeps me young and busy." Mary's husband has been her primary caregiver for the past 10 years.
Pressure injuries afflict 2.5 million U.S. patients and result in 60,000 deaths and more than $26 billion in U.S. healthcare expenditures, according to research in the National Center for Biotechnology Information (NCBI) by William Padula, Ph.D., and Janet Cuddigan, Ph.D., board members of the National Pressure Ulcer Advisory Panel (NPUAP).
The average cost to treat an individual pressure injury in the U.S. can range from $500 to $70,000, according to according to the "Prevention and Treatment of Pressure Ulcers: Clinical Practice Guidelines." The figure was obtained as the result of a collaborative effort among the National Pressure Ulcer Advisory Panel (NPUAP), European Pressure Ulcer Advisory Panel (EPUAP) and Pan Pacific Pressure Injury Alliance (PPPIA).
Updated statistics should be available in the fall of 2019.
About 60 percent of people in wheelchairs suffer from a pressure injury at some point in their lives; these injuries often afflict elderly people near the end of their lives, who often tend not to complain despite pain and a severe odor associated with the sores, said Evan Call, a research scientist at EC Service in Centerville, Utah.
Call provides product testing and development for hospital bed safety and performance, and wheelchair and cushion standards. He holds a number of patents and has published original research, according to the EC Service website.
About half of wheelchair users in the U.S. are geriatric and in the end stages of life, he said.
"Patients don't need 50,000 cushion sizes for a wheelchair," said Mangold. "They only need a few. But they also need good-quality cushions for the kitchen chair, recliner and car. Anyone can go online and buy a piece of bladder or foam. But why put a parent or loved one on that? Our wheelchair pads can help prevent pressure injuries, yet are affordable. We want caregivers to have the best outcomes for their patients."
Casco is investing in a pressure-mapping system to use when developing mattress and wheelchair pad products so patients of all sizes can be comfortable and remain pressure-wound free.
Pressure mapping is used to assess pressure distribution on a wheelchair or mattress surface. A patient lies down or sits on a surface, and a computer screen displays a map of pressures, using colors from red to orange to yellow, which indicate higher pressures, to greens and blues, which indicate lower, healthier pressures. Knowing where a patient's hot spots are can determine how a better surface can be built to support them.
The Casco Prevention Chair Pad comes in three sizes: 18 by 16 inches; 18 by 18 inches; and 20 by 18 inches, which is the most popular bariatric size and can hold a person up to 350 pounds, said Mangold. It is available for sale now through Grainger, Zoro, Amazon.com and others.
Casco is a third-generation, family-owned and certified, woman-owned manufacturer. It manufactures soft goods for industry leaders in institutional, healthcare, government, outdoor and custom manufacturing markets and for private labels. Some of its products include hospital mattresses, C-Matt™ Replacement mattresses, mattress covers and stretcher pads.
For more information about the Casco Prevention Chair Pad and Casco Manufacturing Solutions, visit http://www.cascomfg.com or call (513) 681-0003.