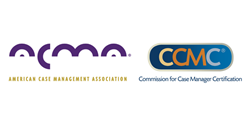 LITTLE ROCK, Ark. (PRWEB) September 20, 2022
The American Case Management Association (ACMA) and the Commission for Case Manager Certification (CCMC) today announced a unified definition for case management and the creation of a joint Advocacy Task Force.
In an effort to provide clarity to the profession, ACMA and CCMC have aligned to approve a common definition of case management:
"Case Management is a dynamic process that assesses, plans, implements, coordinates, monitors and evaluates to improve outcomes, experiences and value. The practice of case management is professional and collaborative, occurring in a variety of settings where medical care, mental health care and social supports are delivered. Services are facilitated by diverse disciplines in conjunction with the care recipient and their support system. In pursuit of health equity, priorities include identifying needs, ensuring appropriate access to resources/services, addressing social determinants of health and facilitating safe care transitions. Professional case managers help navigate complex systems to achieve mutual goals; advocate for those they serve; and recognize personal dignity, autonomy, and the right to self-determination."
"Elevating the practice around a common definition sets a consistent professional standard with clear expectations for professional case managers," said MaryBeth Kurland, chief executive officer of CCMC. "A standardized definition elucidates the role and functions of case managers, offering clarity in the face of current and future developments across the industry."
In addition to collaboratively defining case management, the organizations have signed and agreed to unite as one voice for priority advocacy issues, including legislation and regulation. ACMA and CCMC have created a joint Advocacy Task Force with three representatives from each organization. The intent of this task force is to collaboratively determine annual practice policy priorities and blend organizational voices to more effectively educate elected and appointed officials.
"A single definition and a joint advocacy commitment convey to the industry and any congressional representative or regulatory administrator that the two largest professional case management organizations are united," said L. Greg Cunningham, chief executive officer and founder of ACMA. "Our combined voice is far more impactful than either of us alone."
Historically, ACMA and CCMC individually have been respected sources of certification, education and professional recognition. ACMA was founded to support the profession of case management and care transitions in health care settings, and as an independent credentialing body, CCMC promotes excellence through certification and educational programs for professional case managers and certified disability management specialists.
###
About the American Case Management Association:
Founded in 1999, the American Case Management Association (ACMA) is a national, non-profit, professional membership association, which strives to provide resources, solutions, and support for Case Management and Transitions of Care professionals. ACMA is comprised of more than 8,000 members and 50,000 educational subscribers, including nurses, social workers, physicians and other professionals affiliated with case management. Through a variety of educational conferences and networking events at both the state and national level, ACMA provides its members with numerous opportunities to develop their skills, grow in their profession and learn from the experiences and practices of fellow members. For more information, visit acmaweb.org.
About the Commission for Case Manager Certification:
The Commission for Case Manager Certification is the first and largest nationally accredited case management certification organization, credentialing more than 50,000 professional case managers and disability management specialists. The Commission is a nonprofit, volunteer organization that oversees the process of case manager certification with its CCM® and CDMS® credentials. Offering an extensive portfolio of certification and professional advancement activities, the Commission is the most active and prestigious certification organization supporting the practices of case management and disability management. For more information, visit http://www.ccmcertification.org and http://www.cdms.org, connect with the Commission on Facebook or follow us on Twitter @CCM_Cert.