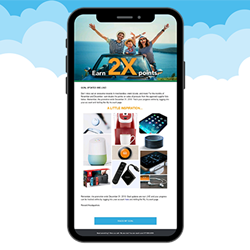 "It's important to be able to communicate with participants across various platforms and to provide a compelling, personalized value proposition." – Mark Herbert, President and CEO, Incentive Solutions
ATLANTA (PRWEB) February 06, 2020
With digital transformation driving customer expectations, companies have begun to realize the importance of using mobile apps to provide connected service, enablement, and communication to their customers. However, do customers really want to download another mobile app? This was the problem facing a global lift truck manufacturer, who integrated a mobile app with their dealer incentive program, only to find that app adoption was dismal.
The lift truck manufacturer partnered with Atlanta-based incentive company Incentive Solutions to launch a multi-touchpoint incentive marketing campaign to educate dealers on the value proposition of their mobile app and to incentivize user adoption. Over a sixteen-week span, the companies used a combination of custom emails, direct mailers, push notifications, and limited-time reward bonuses to achieve a 205.9% increase in total app adoption.
Backed by the promise of reward-earning opportunities, email open rates for the campaign were 48.3% (43.7% higher than manufacturer email benchmarks) and click through rates outperformed industry benchmarks by 419.7%.
"It's important to be able to communicate with participants across various platforms," said Incentive Solutions President and CEO Mark Herbert. "There might be four different generations in a given participant group, so you have to be able to communicate with them on their terms and to provide a compelling, personalized value proposition."
Additionally, the mobile app included intuitive sales claim submission and verification tools to facilitate a cleaner, more complete data exchange between dealers and the manufacturer. The lift truck manufacturer used a double point promotion to incentivize dealers to submit sales claims once they downloaded the app. Over the course of the campaign, 22.3% of app users submitted 543 sales claims through the mobile app.
With plans to expand their dealer incentive program, the lift truck manufacturer views their mobile app as an important tool to capture mindshare, create brand preference, communicate with dealers, and differentiate their rewards program from competitors in their channel. You can read the full results of the case study here.
About Incentive Solutions
Founded in Atlanta, GA in 1994, Incentive Solutions is on a mission: "To inspire growth – for our clients and our employees." A leader in the incentive technology development space, Incentive Solutions uses millions of exciting online rewards, incentive travel promotions, gift card incentives, and innovative platforms to help manufacturers and distributors increase sales, capture mindshare, build customer loyalty, and improve data collection throughout their channel. For more information, visit https://www.incentivesolutions.com.