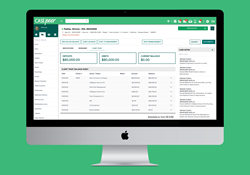 This comprehensive integration opens up a whole new level of compliance and accounting functionality most law firms don't even know is possible.
NEWPORT BEACH, Calif. (PRWEB) October 12, 2020
Legal case management software company CASEpeer announced the release of an integration with Soluno, accounting software for law firms. The integration will allow law firms to seamlessly work between the two cloud-based technologies, streamlining cost and client trust accounting.
"We're thrilled to offer this Soluno integration to our clients," said CASEpeer CEO Gabriela Cubeiro. "Many law firms already choose CASEpeer to improve their tracking of case expenses and trust activity. This comprehensive integration opens up a whole new level of compliance and accounting functionality most law firms don't even know is possible. I've wanted to build the integration since my first Soluno demo."
Soluno is one of the fastest-growing cloud-based time, billing, and accounting solutions designed for law firms of all sizes. Soluno streamlines back-office processes – from time and expense entry, to receiving payments, to financial reports – while remaining fully compliant with local regulatory requirements and maintaining a full audit trail.
"We are excited about the CASEpeer Soluno integration as it will drive efficiencies in Personal Injury practices, eliminating duplication, cost leakage and keeping firms in trust compliance," says Soluno Co-Founder Alan Tuback.
The integration allows law firms to create Soluno cases, queue check requests, and prepare client trust disbursements directly from CASEpeer. Firms can manage access with robust permission layers. The integration is designed for firms of all sizes, with the ability to connect to multiple sets of Soluno books for practices with more than one business entity.
"As a CPA and legal system consultant, I only recommend products that will assist my clients in practicing efficiently," says Deborah Schaefer. "The integration between CASEpeer and Soluno enables a law firm to have a complete system with single entry for all the practice management and accounting needs of the firm. It is a winning solution for a law firm."
CASEpeer is an innovative case and practice management platform designed for plaintiffs' law firms. The secure cloud-based system encourages process, accountability, and efficiency from intake to settlement. Visit CASEpeer's website to learn more about their legal technology.
Since 2014, Soluno has been built on a foundation of innovative technology and a people-first philosophy that prioritizes streamlined systems and superior customer experiences. The product is now trusted by thousands of users daily. You can learn more by visiting Soluno's website.
Founded in 2015, CASEpeer is a leader in legal matter management. The software delivers real-time analytics so plaintiffs' law firms can make smarter and faster decisions on behalf of their clients - and their business.