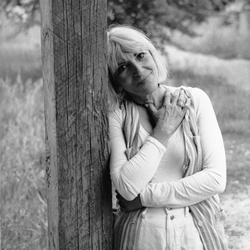 There are no words in this book, but there's plenty of space there for people to talk. -- Casey Coates Danson
DALLAS (PRWEB) January 24, 2019
Long-time environmental activist, Casey Coates Danson, spent years of her life building and designing sustainably-built homes and tackling environmental issues. She's now proving that advocacy can be accomplished through creativity in her new book, "Angels Unawares: Portraits of the Homeless of L.A." (Brown Books Publishing Group), which launches today. This book provides a provocative juxtaposition of homelessness and affluence in Los Angeles. Each of the fifty stunning photographs included in the compilation contains black-and-white portraits of the homeless in L.A. digitally layered over color photographs of lavish, energy-efficient homes Danson captured in her decades-long work as an architect.
Angels Unawares offers a deeper glimpse into the American homelessness crisis. Over 550,000 people in America were homeless on any given night in 2017. The West Coast, in particular, has seen a rise in homelessness in the last half-decade. Danson unapologetically and masterfully captures the shocking contrast between the affluence of Los Angeles and the deprivation of Skid Row in this breathtaking collection of photographs. Danson's work makes the American homelessness crisis impossible to ignore. Each photograph is a call to address the issue.
"I just remember suddenly feeling very aware… I just remember how bleak it was, seeing these people living on the streets in tents," shared Danson. "It was emotionally overwhelming."
Danson co-founded the American Oceans Campaign, which has since merged with Oceana. In 1996, she established Global Possibilities, a nonprofit organization dedicated to reducing American dependency on fossil fuel and mitigating climate change by promoting solar energy, as well as other important social issues.
A portion of proceeds from book sales supports Los Angeles area homeless organizations.
To purchase a copy of Angels Unawares, and to join in the efforts to combat homelessness, visit http://www.GlobalPossibilities.org.