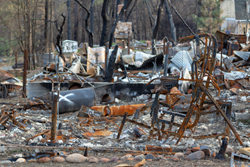 "We are very pleased that the claim bar date was extended. Many victims are still unaware that they will forever lose their right to file a claim against PG&E if they do not file by the deadline."
SAN DIEGO (PRWEB) November 20, 2019
The San Diego law offices of CaseyGerry, which is representing victims of wild fires in Northern California, has announced that the deadline for fire victims to file claims in bankruptcy court against Pacific Gas & Electric (PG&E) for losses arising from fires that occurred in Northern California prior to January 29, 2019, has been extended to until December 31, 2019.
According to David S. Casey Jr., managing partner of CaseyGerry, San Diego's oldest plaintiffs' law firm, PG&E filed for a Chapter 11 reorganization bankruptcy in January 2019 and the U.S. Bankruptcy Court has now extended the deadline.
"By court order, the original claim bar date of October 21, 2019, was extended for more than two months," he said. "All victims of the following fires – including homeowners, business owners, renters, occupants and family members who lost loved ones in the fire – now have until 5 p.m. PST December 31, 2019, to file a claim for damages against PG&E: 2015 Butte Fire, 2016 Ghost Ship Fire, 2017 North Bay fires and 2018 Camp Fire."
Casey Jr. noted that anxieties are mounting amidst a recent spate of California fires. "Many wildfire victims were unaware they could even file a claim – so this recent extension is welcome news. Anyone who has suffered a loss from these fires is eligible and encouraged to file a claim."
CaseyGerry attorneys David S. Casey Jr. and Angela Jae Chun have teamed with experienced power line fire trial lawyers Thomas Tosdal and Michael Feinberg to form Camp Fire Trial Lawyers. The group has combined its considerable collective knowledge and resources.
"We are very pleased that the claim bar date was extended," said Chun. "Many victims are still unaware that they will forever lose their right to file a claim against PG&E if they do not file by the deadline."
The destruction caused by the Camp Fire of November 2018 was especially devastating. Eighty-five people died in the fire, and numerous civilians and first responders were injured. The loss of property was extensive and most of the town burned, including homes, businesses, schools, medical facilities and more.
Fire victims are urged to file a claim against PG&E by the new claim bar deadline. After Dec. 31, 2019, victims will give up their rights to seek any compensation for their injuries, loss of loved ones and property loss.
Fire victims can file a claim online or by mail and visit https://restructuring.primeclerk.com/pge/EPOC-Index for more information.
Fire victims may also file a claim in person at a PG&E service center locations below between 8:30 a.m. – 5 p.m. PST: 350 Salem Street (Chico); 3600 Meadow View Rd. (Redding); 111 Stony Circle (Santa Rosa); 231 "D" Street (Marysville); 1850 Soscol Ave., Ste. 105 (Napa) and 1567 Huntoon Street (Oroville).
About Camp Fire Trial Lawyers
The Camp Fire Trial Lawyers have over a decade of experience handling power line-triggered fires. They are also lifelong California residents who have compiled resources to help families and neighbors through this devastating time. More information can be found at http://www.campfiretriallawyers.com.