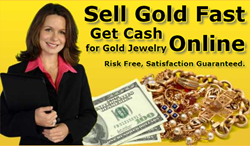 Reliability, Convenience, and Results make up NowGold.com's RCR factor!
Orlando, FL (PRWEB) October 28, 2013
The new video testimonials that NowGold.com uploaded to their YouTube channel have a common theme running through them all, which is the reliability, convenience, and the results that they received from the scrap gold for cash buyer. Customers can send in their gold watches, chains, rings, earrings, and other gold items with the assurance that they will get fast service, and a fair price.
Reliability
NowGold.com holds an A+ rating from the Better Business Bureau. This rating reflects the company's 25 years of experience and numerous satisfied customers. "The process was simple since everything is explained on their website in easy to follow steps. It's clear why the Better Business Bureau rates this company with an A+," says Deborah Wisoff from Fairfax, Virginia. Her testimonial is only one of many on the NowGold.com website, describing NowGold.com's reliable cash for gold service.
Convenience
NowGold.com offers four shipping methods, has a policy of paying for shipping on most options, and its instant pay offer guarantee that customers receive provide cash for gold conveniently. People that want to sell gold jewelry online for cash simply fill out the online form, choose their shipping method, and choose whether to send a voided check to have their money directly deposited.
"After reading about them, I decided to give them a shot. No gas wasted going to a pawn shop, no postage to pay, seemed a lot easier. In just two days, a direct deposit was made in my bank account for $759.00!" says Kevin Darnell of Jefferson, North Carolina, on the NowGold.com website.
Results
NowGold.com's 110% price match guarantee assures customers that if they can find a higher price within 30 days, NowGold.com will give them that price plus 10% on their jewelry. It is a no-lose situation for anyone wanting to send in their old gold items. "I was hoping for over $100 and $200 would be a bonus. But when I opened up the check, there was $440! Who is next?" says David Ransom of Eugene, Oregon, on NowGold.com.
About NowGold.com
NowGold.com provides cash for gold services for almost any type of gold item. It has been in business since 1988, and is a recognized leader in its field. The company is a licensed and insured precious metals dealer, and is VeriSign registered.
For more information, visit this Cash for Gold buyer at http://www.NowGold.com.