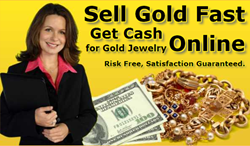 The how to get extra Christmas Cash for Gold jewelry white paper explains the easiest way to have new jewelry pieces made at no cost to you.
Orlando, FL (PRWEB) September 28, 2013
The "How To Make Extra Christmas Cash for Gold Jewelry" white paper explains that, "One of the most important things to know when selling your old gold jewelry for scrap, is that you will not receive the retail price for the gold piece. Even though you will not receive full retail price, there are ways to get the very highest dollar for your scrap gold. The NowGold.com YouTube channel has many video testimonials of people that have received over a thousand dollars, to a few thousand dollars for old, knotted chains, broken earrings, class rings that don't fit anymore, bracelets with broken clasps, and other miscellaneous pieces of gold jewelry."
"Another factor to consider, is the fact that you will not usually receive compensation for the stones when selling your jewelry to obtain cash for gold," the scrap gold white paper explains. "Many people will remove the stones to use in a new piece of jewelry that they are having made," the paper continues, "then they sell their scrap gold to an online scrap gold buyer so they can obtain the highest price for their old gold. Often the cash for gold that people receive, is enough to pay for the new piece of jewelry to be designed plus have their original precious stones embedded. Now they have a useable piece of gold jewelry that will not just lay around, tucked away, never being enjoyed."
The NowGold company motto is risk-free, satisfaction guaranteed - safe, secure and insured, plus they are registered as a trusted company with VeriSign. NowGold is a #1 rated scrap gold buyer with the trusted consumer advocate site http://OnlineGoldScam.com. NowGold is an A+ BBB rated, licensed and insured Precious Metals Dealer that is located in Orlando, FL that has been buying and selling gold since 1988. Lee Heavener the CEO of NowGold, currently manages the company helping clients' nationwide get the most cash for their gold.
For more information visit NowGold at
http://www.sellgoldcashforgold.com
http://www.Facebook.com/NowGold
1-800-584-SELL
1-800-584-7355