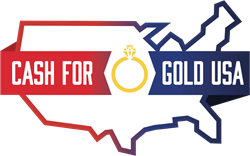 We're trying to stay open and operational, just like every other business out there. But more importantly, we want to help, and we have the capability to do so.
FOXBORO, Mass. (PRWEB) April 07, 2020
Cash for Gold USA has been deemed an essential business and is in full operation during the COVID-19 pandemic. The company, headquartered in Massachusetts, is offering customers an alternative way to earn some extra money while staying safe and sheltering in place.
Known as one of the largest online B2C gold buyers in the world, Cash for Gold USA was established in 2005 and pays cash for an assortment of items: broken gold jewelry, diamond rings, gold watches, scrap gold, gold coins, sterling silver and more.
"There are three things we know right now. Number one: This is a difficult time for everyone. Number two: People need money. Number three: Selling valuables for money for groceries or medicine during a pandemic is not ideal. We hope that our services are typically used to earn extra cash for exciting things like a vacation—not out of necessity. But it is an option right now—and we want people to know that," said Norm Schneider, President of Cash for Gold USA.
The Cash for Gold USA team is working around the clock to service the recent upsurge in transactions, while taking extreme safety measures and following guidance from medical professionals, Centers for Disease Control and Prevention (CDC), World Health Organization (WHO), and other health authorities.
Employees are adhering to all necessary precautions to limit physical interaction with each other and are sterilizing incoming packages upon receipt, including the valuables contained within. Since all business is done strictly through the mail via USPS and FedEx, the Cash for Gold USA Team has no direct contact with customers.
Schneider also commented, "I wish we didn't have to say this, but we need to. We're not here to take advantage of anyone during this time. Yes, we're trying to stay open and operational, just like every other business out there. But more importantly, we want to help, and we have the capability to do so. If customers aren't satisfied with our appraisal, we'll return the items—no questions asked."
To use Cash for Gold USA's services, customers can request a free FedEx shipping label and arrange for a FedEx pickup via phone at 1-866-300-1430, or Cash for Gold USA can ship them a prepaid patented Safepak® that can be picked up by USPS. All packages, via FedEx or USPS, are ensured up to $5,000. For payment, checks can be sent in the mail and deposited remotely with most banking apps, or electronic payments can be requested and sent via PayPal or direct deposit.
For more information about Cash for Gold USA, click here or feel free to call 1-866-300-1430 or email info@cashforgoldusa.com.
About Cash for Gold USA
Cash for Gold USA is an Inc. 500, family-owned company known for establishing the gold, silver, and diamond buying business online. With more than $50 million in payouts and over 250,000 customers served in the US and Canada, they remain the most trusted brand in the industry.