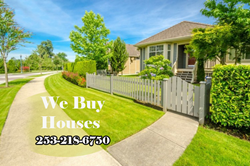 OXON HILL, Md. (PRWEB) December 05, 2018
People often find it difficult to sell their homes fast for one or another reason. Many times, a homeowner has to incur heavy renovation expenses to make it livable as well as attractive for buyers. However, in Maryland, a leading real estate expert has come up with a strategy, allowing homeowners to quickly sell their homes without spending on repairs or renovation. Larry has started this Cash for Houses program with an objective to help property owners in the area to get the best value for their homes, as fast as possible.
Speaking about this strategy, Larry stated, "Once I wanted to sell my house immediately, and I found it was really difficult. Finally, I started the Cash for House Maryland Company to assure the best prices and sell houses without a delay for the most homeowners in the area." With years of experience in the local real estate market, Larry is well aware of the tricky process of closing a real estate deal. According to him, his strategy could be the best option for someone who wants to sell his/her house with little delay and without spending time and money on repairs. With a great understanding of the local economy, Larry and his team are capable of brokering the best deal for a homeowner who closes a deal through them.
According to Larry, his cash for house strategy is a simple program that expedites the process of selling house. Under this strategy, there is no need of loan approvals, which often delay the process. Thus, it saves homeowners from going through a bunch of unnecessary paperwork. Moreover, the knowledge of the market prices allows them to close the deals in a rather speedy manner. They can handle all types of property related transactions in a time saving manner to save both buyers and sellers from several types of hassles and frustrations.
One can learn more about the cash for the house Maryland strategy and how it can benefit them by visiting the website https://cash-for-houses-maryland.construction-expert.com.
About Cash For Houses Maryland
Cash For Houses Maryland is 100% dedicated solution to get a property sold as quickly and easily as possible while still getting the most money. The amount of commission realtors charge along with the necessity for the properties that go up on the MLS needing to be in comparable condition to other homes listed, makes selling houses difficult when it comes to major repairs and other defects. Cash for Houses Maryland purchases houses as-is basis and ensures the best prices for the clients.
For Media Inquiries
Contact Person: Larry
Telephone: 253-218-6750
Email: Larry(at)construction-expert(dot)com
Sell My House