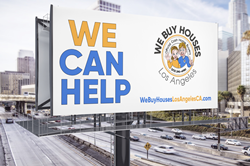 Cash offers are also lower than retail prices, but you don't have to pay real estate commissions, make any repairs, spend any money and can sell fast and on your timeline, so there are distinct advantages for a reputable cash home buying company like We Buy Houses Los Angeles, CA™.
LOS ANGELES (PRWEB) May 13, 2022
Last year, any property on the market would probably receive at least one cash offer, and some offers would be well over market prices, but as data trickles in from April, the cash party for most home sellers might be over, but not for this professional cash home buying company in Los Angeles.
We Buy Houses Los Angeles, CA™, has seen their business increase since 2020 by over 23%, and they don't see signs of slowing down.
As interest rates go up, the number of home buyers goes down. According to Fortune.com, "As mortgage rates rise, of course, it puts downward pressure on the housing market. If someone took out a $500,000 mortgage at a 3.11% fixed rate, that borrower would owe a monthly principal and interest payment of $2,138 on a 30-year loan. However, at a 5.27% rate, that payment would jump to $2,767. Not only are those higher rates pricing out some would-be homebuyers, but it also means some borrowers—who must meet lenders' strict debt-to-income ratios—have lost their mortgage eligibility."
While this inhibits a large number of home buyers to make offers, the real effect is that prices go down, as do cash offers.
If you're selling a home in Los Angeles, the #1 ranked cash buyer in Los Angeles, per Google, offer these 5 tips for selling a house in Los Angeles that isn't selling fast enough.

Tip #1: Get Rid of Your Stuff
Seriously. You're moving into a new home anyway, so pack up now. Before you list, advertise, or have a single showing, box up and store EVERYTHING that isn't vital. People viewing your home will consciously (or subconsciously) be turned off by clutter and items that appear too personal in a home. The will feel as if they are intruding on your space, and will never fully be able to picture themselves living in the house. (Which is what you ultimately want.) As far as decor, keep it neutral. Consider hiring a professional stager to add the right touches to your house.
Tip #2: Take Great Photos
The majority of people are shopping online for their next home. That means you have to capture their attention in only a matter of seconds. People scroll right past a house with bad or sub-par photos. The pictures you use in your ad should present the house in the best possible light. Consider renting a wide angle lens, or hiring a professional to help you get the right shots. Any fees you encounter are well worth it in the end.
They say, whether they know it or not, buyers decide right away if they will make an offer on a home. What potential buyers see as they are pulling up to the house, will set the overall tone of the showing. Unlike many other home improvements, curb appeal can usually be done at a low cost. There are many things a home seller can do, but here are a few suggestions. Clean up and weed the garden/lawn, plant some flowers, buying and installing new hardware such as mailbox, address numbers and door handles, adding a fresh coat of paint on the door, and even buying a a new doormat. Remember, a first impression goes a long way.
From day 1 your home needs to be priced correctly. A great agent will be able to help advise you, however you should do a bit of homework on your own. What are other houses in the neighborhood actually selling for? Run some comps, and don't price too high. Many people go for the highest imaginable price, hoping to snag a buyer. However, most of the time, this only leads to impending price cuts. And while you are finagling with price, your listing is dropping further and further down the line. In addition, repetitive price drops will make you look desperate or give the impression that there is something wrong with the house. By starting off with a well-researched price, you will be able to hit the market and be competitive with other listings in your area. Cash offers are also lower than retail prices, but you don't have to pay real estate commissions, make any repairs, spend any money and can sell fast and on your timeline, so there are distinct advantages to a cash offer from a reputable home buying company, like We Buy Houses Los Angeles, CA™.
Tip #5: Highlight Your Neighborhood
When a person buys a home, they aren't just buying the structure, they are buying the location and lifestyle. Showcase ALL of the things that make your neighborhood unique and inviting. Put together a packet to give to people viewing your house. Include information about recreational activities, restaurants and commute times. Let them know about parks, lakes, and anything you love about the area yourself. Is the neighborhood tightly knit? Block parties and holiday events? Make sure to highlight that as well! Most people are looking for a great home in a wonderful atmosphere. Highlighting the area can be just as important as highlighting the home itself!
And if all this seems like too much, remember you can always sell a house with no hassles by simply contacting a local cash buying company like We Buy Houses.