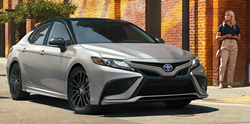 JANESVILLE, Wis. (PRWEB) November 13, 2021
Customers living in Janesville, Wisconsin, who plan to buy the 2022 Toyota Camry, should visit Hesser Toyota. The dealership has come up with a lucrative offer where customers can enjoy a cashback of $500 on the 2022 Toyota Camry. The offer is valid till November 30, 2021.
Before proceeding to buy the vehicle, customers should be aware of certain terms and conditions.
It qualifies for $500 TFS APR Cash on a new 2022 Toyota Camry. The offer also depends on the vehicle's availability at the dealership. To qualify for cash, shoppers must finance through dealer and Toyota Financial Services. No cash back option is available, and not all customers qualify for this offer. It cannot be combined with Customer Cash, TFS Lease Cash, Lease, Lease Subvention Cash.
On buying a new 2022 Camry, there is a $500 Finance cash from Toyota Motor Sales USA, Inc. for qualified, non-subvened finance contracts through Toyota Financial Services. Finance Cash must be applied on a qualified TFS finance agreement toward the down payment within 84 months. Customers must take delivery of their vehicle from the dealership before November 30. This Finance Cash Offer doesn't apply to Toyota Certified Used Vehicles.
Customers who want to learn more about the cashback offer are encouraged to visit the Hesser Toyota website or call (608) 754-7754. Interested buyers can visit the Hesser Toyota Dealership at 1811 Humes Rd., Janesville, Wisconsin, 53545.