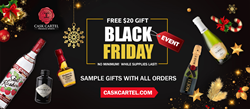 CHEYENNE, Wyo. (PRWEB) November 25, 2019
CaskCartel.com Black Friday is expected to be an event that nobody that buys premium spirits should miss. During this event, CaskCartel.com will offer free sample drinkables to every online order. The best part is that no minimum purchase is required to enjoy this amazing offer.
One of the nicest gifts a son can give to his father or brother is a fine bottle of bourbon. Bourbon whiskey contains at least 51% corn, while barley and rye or wheat make up the rest. This fine spirit is aged in charred oak barrels. Whiskies that have been aged for a long time will have richer flavors. Due to the corn, bourbons have a sweeter flavor. Additionally, the flavor can also be influenced by the oak barrel, the climate, and other grains. Cask.Cartel.com offers a wide collection of fine bourbons from where every son can select a fine gift for their fathers or other siblings. Many other premium drinks or spirits can be found during the CaskCartel.Com Black Friday Promo Event. Whiskey, rum, tequila, vodka, gin, cognac, mezcal, and other wonderful liqueurs can be found only on this exclusive online marketplace.
Jack Daniel's, Blanton's Bourbon, Elijah Craig, Buffalo Trace Bourbon, Angels Envy, Four Roses, Eagle Rare Bourbon, Maker's Mark, Michter's, Macallan, Johnnie Walker Blue Label, Chivas Regal, Glenlivet, Glenfiddich, Compass Box, Laphroaig and many other brands of high-end liquors can be purchased at special prices while quantities last during the CaskCartel.com Black Friday Sale.
Elijah Craig Barrel Proof Bourbon is a gorgeous mahogany whiskey with woody aromas that blend well into the scents of caramel and vanilla. This fine liquor has pleasant dark caramel flavors and a mellow cinnamon spice with notes of dark chocolate and orange peel.
Elijah Craig Barrel Proof Bourbon Tasting Notes

Nose: Caramel with toasted oak, fruit notes of apple and orange.
Palate: Rich vanilla, caramel, and butterscotch along with spices of black pepper & cinnamon.
Finish: Nicely layered showcasing all flavors, fades slowly then lingers as it cools.
The Elijah Craig Barrel Proof is available to purchase during the CaskCartel.com Back Friday 2019 Sale.
The Elijah Craig Barrel Proof bourbon is one of the finest spirits available on the market. This claim is supported by the prestigious awards this liquor has already won.
Whiskey of the Year 2017 by Whisky Advocates
Winner of 2 Double Gold medals at the San Francisco World Spirits Competition 2017
Best Bourbon, Best Brown Spirit In Show, by WSVA
Blanton's Original Single Barrel Bourbon was once reserved to a few privileged persons such as ambassadors, dignitaries, and Colonel Blanton's family and friends. Today, anyone has access to the world's first single barrel bourbon. This marvelous spirit has a sweet taste profile with pleasant notes of citrus and oak. The creamy vanilla nose is teased with caramel and butterscotch, all underscored by familiar baking spices such as clove, nutmeg, or cinnamon.
Blanton's Single Barrel Tasting Notes
Nose: A deep, satisfying nose of nutmeg and spices.
Palate: Powerful dry vanilla notes in harmony with hints of honey amid strong caramel and corn.
Finish: A medium finish composed of returning corn and nutmeg flavors.
There are only a few days left until CaskCartel.com Black Friday Sale begins and spirits enthusiasts should prepare. It's important for customers to know that no minimum purchase is required to take advantage of the Black Friday Deals. The free gift will appear at check out. Customers should hurry up, as the promo will end without notice when the supplies are depleted.