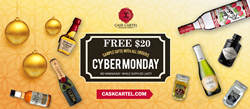 CHEYENNE, Wyo. (PRWEB) November 25, 2019
Cask Cartel Cyber Monday will be an event that fine spirits lovers will not forget any time soon. For every online order, CaskCartel.com will offer a free drinkable sample. No matter how small or big the order finally there is a no-minimum requirement! Consumers who choose CaskCartel.com as their premium spirits marketplace during the Cyber Monday Event will all enjoy free drinkable samples that make for excellent stocking stuffers.
At CaskCartel.com, visitors can find the largest selection of the best and exclusive bottles of bourbon, whiskey, rum, tequila, vodka, gin, cognac, or mezcal. During the CaskCartel.com Cyber Monday Promo Sale, customers can find special offers across a wide variety of spirits made by renowned brands such as Jack Daniel's, Blanton's Bourbon, Elijah Craig, Buffalo Trace Bourbon, Angels Envy, Four Roses, Eagle Rare Bourbon, Maker's Mark, Michter's, Macallan, Johnnie Walker Blue Label, Chivas Regal, Glenlivet, Glenfiddich, Compass Box, and Laphroaig.
Nothing makes a husband happier than a perfect spirited gift. A gift that truly keeps on giving with every sip by not only the taste but also the memory. Many couples have been together for years, and a token of love from a wife to a husband can bring them closer. One of the best gift ideas for a husband can be a bottle of premium whiskey. CaskCartel.com is proud to offer a wide collection of different premium whiskeys including bourbons, ryes, scotch, Japanese style, and more. Various grains are used for different whiskey varieties, including barley, corn, rye, and wheat. Typically, whiskey is aged in casks made of charred white oak. A fine bottle of whiskey can be the ideal gift that any husband can appreciate. At CaskCartel.com, whiskey lovers can choose from the largest selection of fine whiskeys available online.
Johnnie Walker Blue Label Scotch is the flagship of the House of Walker, being a blend of the rarest malts from hand-selected casks across Scotland. The whiskeys that compose Blue Label are specially selected for their individuality from some of the rarest stocks in the Johnnie Walker reserves. Only one in 10,000 casks is deemed to be worthy to be considered a Blue Label.
Johnnie Walker Blue Label Scotch Whisky Tasting Notes

Nose: Hazelnuts, honey, sherry, and oranges tumble in first, before releasing hidden secrets like ginger, kumquats, sandalwood, and dark chocolate.
Palate: A rich honey sweetness emerges, accompanied by hints of pepper and dried fruits.
Finish: Long, lingering, smooth finish of perfectly balanced, soft smoke.
Johnnie Walker Blue Label is inspired by Alexander Walker's 1867 Old Highland Whisky. Johnnie Walker Blue Label is an exquisite combination of Scotland's rarest and most exceptional whiskies.
Angel's Envy Kentucky Straight Bourbon Whiskey is a beautiful, mouthwatering newcomer to the whiskey scene. Named for the 'angel's share,' the portion that evaporates from the barrel during the aging process, this golden amber spirit is finished in Port barrels, which explains those juicy red-fruit notes that slide into the long finish.
Angel's Envy Kentucky Straight Bourbon Whiskey Tasting Notes
Nose: Hints of dark chocolate and caramelized fruit, with just a touch of cherry.
Palate: Notes of cinnamon and a touch of vanilla.
Finish: Sweet caramel, raisins, and toffee.
The CaskCartel.com Cyber Monday Event is just around the corner and everyone should be ready to take advantage of the deals that are waiting for them on the CaskCartel.com website. No minimum purchase is required to take advantage of this deal. Go to CaskCartel.com and get your premium liquor gifts. Start giving this Holiday Season!