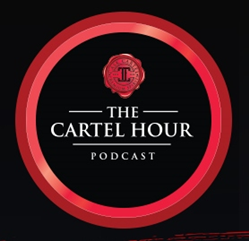 LOS ANGELES (PRWEB) March 12, 2020
Cask Cartel has already revealed that Phil Rosenthal, creator and executive producer of Everybody Loves Raymond and creator of the Netflix series Somebody Feel Phil, will be the celebrity guest for this episode, airing March 18th. These first two episodes, airing March 18th and the following weeks episode airing on the 25th, will be essential listening - live listeners will have the chance to win one of 20 Blanton's Gold Edition Samples that will be given away during the livestream podcasts. This new approach to an intuitive, fresh and authentic podcast will be a happy hour discussion of the premium spirits scene through the eyes of two industry professionals. Celebrity guests like Kin Whiskey founder Eric Boujo and Ben Molina of Angelisco Tequila and others will drop in every week to give unique and memorable perspectives so this is definitely slated to make history in the spirits industry.
This All-Star team is made up of co-hosts Seth and Cameron alongside America's largest online premium spirits marketplace, Cask Cartel. This dream collaboration brings together some of the biggest concepts in the modern liquor industry with Cask Cartel's extensive partnerships with producers, brands and licensed local retailers alongside co-hosts Seth and Cameron's vast knowledge and passion of premium spirits. Seth Benhaim, owner and founder of Infuse Spirits Group, brings an expertise to The Cartel Hour as he is an avid spirits enthusiast. Cameron Stephens's entrepreneurial spirit cements this podcast firmly in the liquor industry, engaging both CEOs and business owners alongside hobby enthusiasts. With their vast expertise on the pulse of all things liquor, Cask Cartel and hosts Cameron and Seth give an experience like no other with their new podcast, The Cartel Hour.
As the liquor industry continues to rapidly grow and change, each week The Cartel Hour will focus on a trending topic in the spirits industry. Varieties will be discussed in depth, from the difference between white and brown whiskey to the tasting notes of Canadian, Irish and Japanese liquors. Cameron and Seth will keep you up to date on special edition bottles, limited releases and special collaborations. If you're looking for something different, a place where you can share a bottle with a group of great friends, The Cartel Hour is the podcast to add to your feed.
With coverage of the year's biggest spirits festivals and competitions, from celebrity interviews to awards announcements and much more, you'll always have your finger on the industry pulse. Celebrity guests like Kin Whiskey founder Eric Boujo and Ben Molina of Angelisco Tequila will highlight brands to make each episode unique and knowledgeable, even for industry veterans. Special guests include brand owners and ambassadors, bartenders, distributors, writers, bloggers, influencers, and even other podcasters!
It's easy to listen - just tune in to the live stream at CartelHour.com and on Instagram @CartelHour at 2pm EST the 2nd, 3rd and 4th Wednesday of every month. This podcast offers an entirely new experience centered around informative and approachable discussions about spirits - fun, candid and authentic, not pretentious or unrelatable. Grab your favorite glass and settle in to an hour of spirits industry news and upcoming trends with your co-hosts Seth and Cameron. The Cartel Hour is the place where premium spirits will be discussed, reviewed and artfully analyzed for enthusiasts, collectors and industry officials alike.
About Cask Cartel
Cask Cartel is America's #1 online premium spirits marketplace. Featured and seen in Rolling Stone, Men's Journal and Us Weekly Magazines. The company prides itself of having the largest marketplace in the world giving access to over 6000+ products. Combined with a superior customer service experience this makes them the leader in the alcohol beverage industry. Cask Cartel has extensive partners and relationships with producers, brands and the licensed local retailers which grant consumers online access to new arrivals, limited productions and allocated items. Their online Marketplace transforms the way premium spirits are shopped sold and fulfilled by creating a network of the largest network of liquor selections available online.
Contact: host@cartelhour.com