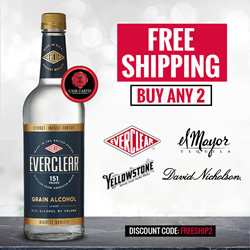 CHEYENNE, Wyo. (PRWEB) April 08, 2020
Distilled from 100% selected grains, Everclear 151 provides a neutral flavor profile along with a high proof. The "original" grain alcohol product, Everclear enjoys tremendous brand recognition and a loyal, near cult-status following. Due to its high proof, Everclear has a unique ability to extract even the subtlest of flavors.
High proof spirits like Everclear 151 are designed to make other spirits such as liqueurs and bitters. While everyone can drink Everclear on its own, it's not recommended. The experience is like sipping the purest expression of alcohol anyone can come by. Although it's not completely flavorless, Everclear's mild notes of lemon, orange peel, and white pepper are not really significant in the face of its blistering booziness, which overwhelms all else.
Everclear 151 is a rectified spirit made from corn. It is bottled at 151-proof (75.5% ABV). Due to the azeotropic effects visible in the distillation process, ethanol cannot be concentrated by ordinary distillation to a ratio of ethanol to water greater than approximately 96 to 4 by weight.
Everclear 151 Grain Alcohol Tasting Notes

Nose: The nose is mildly ethanol, not harsh.
Palate: Smooth with just a bit of pepper on the tongue.
Finish: Long round finish.
During these challenging times for a limited time, CaskCartel.com has an offer that no one should miss. Purchase any two items from these brands, David Nicholson, Yellowstone, El Mayor, or Everclear, the shipping will be free.
Make sure to use the discount code FREESHIP2
While the entire world is dealing with the COVID-19 outbreak, online alcohol and liquor sales have skyrocketed. Cask Cartel has seen over a 600% increase for e-premise online orders we have seen orders of 25-36 items and individuals purchasing cases to stockpile. Due to the high demand and reduced distributor and supplier deliveries some orders are delayed but our team is working 24/7 with our retailers to get customers their orders out. We ask everyone who has used or uses our online premium spirits marketplace to keep the workers in the supply chain in mind who are risking their lives to process their orders.
At CaskCartel.com, all orders placed are received and fulfilled by a large network of licensed retailers. Many other small liquor store sites will end up canceling orders due to the high demand and unavailability. Instead of immediately canceling orders our team attempts to source it from their entire network of retailers. This can take calling up to 15 retailers and playing a wait game to confirm inventory. In some cases this may take longer to receive your order however then again the alternative is cancelling it and possibly not being able to get it at all.
About Cask Cartel
Cask Cartel is America's #1 online premium spirits marketplace. Featured and seen in Rolling Stone, Men's Journal and Us Weekly Magazines. The company prides itself of having the largest marketplace in the world giving access to over 8000+ products. Combined with a superior customer service experience this makes them the leader in the alcohol beverage industry. Cask Cartel has extensive partners and relationships with producers, brands and the licensed local retailers which grant consumers online access to new arrivals, limited productions and allocated items. Their online Marketplace transforms the way premium spirits are shopped sold and fulfilled by creating a network of the largest network of liquor selections available online.