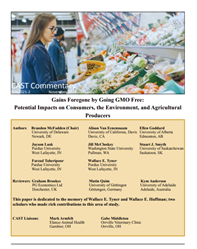 AMES, Iowa (PRWEB) November 15, 2021
The Council for Agricultural Science and Technology's (CAST) new paper, "Gains Foregone by Going GMO Free: Potential Impacts on Consumers, the Environment, and Agricultural Producers" is now available for free download. The objective is to communicate the benefits of GMOs and the potential cost to society if the technology were removed from the marketplace.
This commentary looks at the benefits of GMOs to consumers, the environment, and crop and livestock producers, and it discusses realized and potential costs of restricting GMO applications. The research cited in this paper shows that GMOs use less land, energy, and chemicals, and the carbon footprint of agriculture would certainly increase without GMOs. The authors examine gene editing technologies and how to regulate agricultural innovation. Dr. McFadden, the chair of this paper, pointed out there is evidence in the U.S. that consumers are supportive of GE applications to reduce the prevalence of agricultural diseases like citrus greening.
Within the span of 25 years since their first widespread commercial adoption, GMO crops have transformed production systems in the places where the technology has been used. Without continued innovation and adoption of biotechnology like GMOs, the future of reducing food insecurity becomes an increasingly remote and unlikely scenario.
The Commentary, Gains Foregone by Going GMO Free: Potential Impacts on Consumers, the Environment, and Agricultural Producers, is available to download on CAST's website. The webinar will take place at Noon Central on Tuesday, Nov. 16. Dr. Brandon McFadden and a panel of the paper's authors will share highlights of the publication, followed by a Q&A session. Registration for the free webinar can be made here.
Taskforce Members and Contributors

Dr. Brandon McFadden, Chair, University of Delaware
Dr. Alison Van Eenennaam, University of California, Davis
Dr. Ellen Goddard, University of Alberta
Dr. Jayson Lusk, Purdue University
Dr. Jill McCluskey, Washington State University
Dr. Stuart J. Smyth, University of Saskatchewan
Dr. Farzad Taheripour, Purdue University
Dr. Wallace E. Tyner, Purdue University
About CAST
CAST is an international consortium of scientific and professional societies, universities, companies, nonprofits, libraries, and individuals. CAST convenes and coordinates networks of experts to assemble, interpret, and communicate credible, unbiased, science-based information to policymakers, the media, the private sector, and the public.