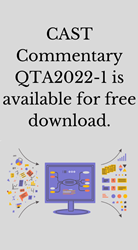 AMES, Iowa (PRWEB) January 24, 2022
The Council for Agricultural Science and Technology's (CAST) new paper, Goals, Strengths, and Limitations Governing the Use of Life Cycle Assessment (LCA) In Food and Agriculture, is now available for free download.
The methodologies used in life cycle assessment (LCA) originated from risk assessment, reduction, and mitigation strategies in hazardous materials management more than 40 years ago. Use of these concepts and methods have emerged in agriculture over the past 25 years. Understanding the impacts of the decisions we make in complex systems like agricultural supply chains is very difficult.
There are questions that LCA can and can't answer. The most common questions addressed by LCAs are related to environmental assessment, especially environmental impacts such as global warming potential or water embodied in a product or process. Some questions LCAs cannot answer include normative value decisions, ethical framing, and risk mitigation.
While LCA studies may differ greatly in complexity and scope, they all adhere to common principles and share a common methodological framework. The International Organization for Standardization standard 14040 describes the principles of LCA, which include the life cycle perspective, a relative approach, transparency, and comprehensiveness. Even though LCA is not a cure-all for environmental issues, it is a tool that, if correctly and completely used, can logically and methodically examine environmental impacts for specific products, processes, systems, and even entire supply chains.
The Commentary, Goals, Strengths, and Limitations Governing the Use of Life Cycle Assessment (LCA) In Food and Agriculture, is available to download on CAST's website. The webinar will take place at Noon Central on Tuesday, Jan. 25. Dr. Marty Matlock, University of Arkansas, and a panel of the paper's authors will share highlights of the publication, followed by a Q&A session. Registration for the free webinar can be made here.
Taskforce Members and Contributors

Dr. Marty Matlock, Chair, University of Arkansas
Dr. Stephen Pfister, ETH-Zurich
Dr. Brad Ridoutt, Commonwealth Scientific and Industrial Research Organisation (CSIRO) Agriculture and Food
Dr. Kurt Rosentrater, Iowa State University
Dr. Greg Thoma, University of Arkansas
Dr. Yuan Yao, Yale University
About CAST
CAST is an international consortium of scientific and professional societies, universities, companies, nonprofits, libraries, and individuals. CAST convenes and coordinates networks of experts to assemble, interpret, and communicate credible, unbiased, science-based information to policymakers, the media, the private sector, and the public.