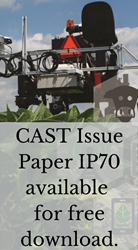 AMES, Iowa (PRWEB) November 16, 2020
The Council for Agricultural Science and Technology (CAST) released a new paper, Ground and Aerial Robots for Agricultural Production: Opportunities and Challenges. It is now available for free download. This paper discusses ground and aerial robots; robotic manipulators; robots used for row crops, orchards, and specialty crops; automated systems in animal agriculture; and enabling factors for the deployment and adoption of robots.
Today, highly automated systems are employed in crop and animal industries to enhance agricultural input efficiency and thus increase agricultural output with reduced adverse impact on the environment. As suggested by Dr. Pitla and Dr. Shearer, both authors on this paper, one kind of automated system for crop production is using unmanned ground vehicles instead of large manned machinery to reduce soil compaction. Robots or automated systems used in animal industries include automatic milking systems, feeding systems, cleaning systems that can spray disinfectants, and robots that can pick up eggs. Research from Dr. Condotta, an author on this paper, points out there have been concepts for automation developed for estimating weights of pigs.
Ground and aerial robots combined with artificial intelligence techniques are able to tackle the rising food, fiber, and fuel demands of the rapidly growing population that is slated to be around 10 billion by the year 2050. Unmanned aerial systems (UASs) can detect plant emergence and identify weeds without needing to physically enter the field. UAS based systems can also be used to measure animal temperature to identify possible illness and deter bird pests in specialty crops. This Issue Paper presents opportunities provided by ground and aerial robots for improved crop and animal production, and the challenges associated with their progress and adoption.
The Issue Paper, Ground and Aerial Robots for Agricultural Production: Opportunities and Challenges, is available to download on CAST's website. The webinar will take place at Noon Central on Tuesday, Nov. 17. Dr. Santosh Pitla and a panel of the paper's authors will share highlights of the publication, followed by a Q&A session. Registration for the free webinar can be made here.