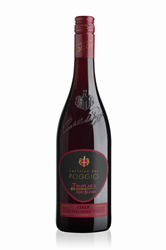 MIAMI (PRWEB) November 21, 2019
Castello del Poggio, an 1821 Fine Wine & Spirits brand and four-year consecutive "Impact Hot Brand Award" winner, is proud to announce the launch of its latest portfolio expansion – the Templar's Blend. Simultaneously, Castello del Poggio is celebrating a new refreshed look for the brand's popular Moscato IGT and a digital sweepstakes to round out the winery's latest efforts to best serve its loyal, growing consumer base of sweet wine aficionados.
The Templar's Blend, a velvety blend of Italian local varietals, will launch nationwide on November 25, 2019. Full and intense on the nose with aromas of blackberries, plums and hints of vanilla, this dry wine exhibits ample fruity flavors with subtle tannins and a persistent finish – the result of handpicked grapes, traditional vinification with delicate contact of the skins, and a combination of French and American oak maturing to enhance roundness and structure.
The Templar's Blend is a nod to the Knight Templars who once protected the medieval fortress which controlled the property from the 11th century and inspired the winery's own name.
"We are thrilled to continue the growth of Castello del Poggio. The Templar's Blend is the latest expression from our innovative winemaking team and the brand's response to the growing interest in diverse, dynamic sweet wines and slightly drier wines," says Shawn Balzano, National Sales Director. "We want to keep catering to the wide audience who appreciates a broad spectrum of flavors and the Templar's Blend helps us strengthen our evolving portfolio to meet consumer interests and palates."
Castello del Poggio has also refreshed the appearance of its flagship wine, Moscato IGT, changing the bottles from green glass to clear, in a move to provide a more inviting look while ensuring the wine's winning flavor profile remains unchanged. Additionally, Castello del Poggio is operating a digital sweepstakes valued at $20,000 through December 31st 2019, featuring a cash prize and a week-long roundtrip to Italy for two. For details please visit http://www.castellodelpoggio.com.
For more information, please contact Claudia Vera or Stefan Sigurdsson.
About 1821 Fine Wines & Spirits:
1821 Fine Wines & Spirits is an independent subsidiary of Zonin1821, the largest privately-owned vine growing and winemaking company in Italy. Today the Zonin family, seven generations of winemakers, is one of the most important family owned vinicultural groups in Italy and Virginia, USA and is one of the leading private winemaking companies in Europe.
Zonin1821's portfolio includes nine wineries located in the seven most prestigious wine growing areas in Italy, is committed to practicing ecologically sustainable viticulture and ensures that every bottle embodies the philosophy of preserving the local winemaking traditions, land, and culture of their respective regions. The 1821 Fine Wines & Spirits portfolio is distributed in all 50 states and more 120 countries around the world. For more information, please visit http://www.1821fws.com.