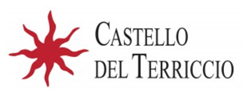 CASTELLINA MARITTIMA, Italy (PRWEB) November 05, 2021
The year of 2021 marks an important occasion for historic winery Castello del Terriccio, as it celebrates 100 years under the ownership of the current proprietor's family, Vittorio Piozzo di Rosignano. To honor this centennial achievement, the estate inaugurated its new restaurant and tasting room, Terraforte, in collaboration with Michelin-starred chef, Cristiano Tomei.
The goal of this project was to establish a unique experience for the winery guests by creating a truly relaxing ambiance. Terraforte's charming location, immersed on the Terriccio estate perched between the local Tuscan woodlands and the Mediterranean sea, is the perfect setting to highlight a menu of exceptional local ingredients and wine list containing a selection of Castello del Terriccio wines and high-end sparkling wines.
"Since I was a child, when I used to visit my uncle Gian Annibale, I always knew that Castello del Terriccio was a magical place, timeless and full of charm," states Vittorio Piozzo, owner of Castello del Terriccio, "and for this reason, I wanted to create a special and unique environment, and invite others to enjoy the estate as much as I do."
Piozzo continues, "When Covid-19 hit the world, the plan of restoring the estate was put on hold, but now, finally, we are seeing the first results of our hard work. The ancient village farmhouse has been converted into a beautiful, modern yet authentic restaurant and tasting room, overlooking the Tuscan grounds, and we chose a chef to run the restaurant who was capable of interpreting the soul of Terriccio and enhancing it with his creativity. We couldn't have been happier when Cristiano expressed his enthusiasm to join our team at Terraforte!"
"A partnership born by chance!" says Cristiano Tomei, the Tuscan Michelin-starred Chef and owner of L'Imbuto restaurant in Lucca, as well as Chef at Hotel Bauer Palazzo in Venice. "Together we aim to celebrate Castello del Terriccio's world where wine, olive oil, farming, animals, the land and the village coexist in harmony."
Tomei continues, "Terraforte originated with the respect and deep awareness of its unique surrounding microcosm and the restaurant's location was truly the inspiration for the menu; a mix of meat and seafood dishes, revamping old and traditional recipes while paying homage to the estate's rich history."
About Castello del Terriccio
Iconic Tuscan estate owned by the Rossi di Madelena family, celebrating its 100th year in 2021, Castello del Terriccio is one of the leading winemakers of Italy's coastal Maremma region and a historical producer of Super Tuscan wines. With world-renowned oenologist Carlo Ferrini as the estate's winemaker since its modern founding, the wines elegantly express the terroir of the property's vast holdings through polished Bordeaux blends defined by their Italian flair, with its Grand Vin, Lupicaia, considered a classic example of the style. A de facto organic estate with viticultural roots dating back to the ancient Etruscan period, Castello del Terriccio occupies a unique position in the world of Italian wine, bringing together local tradition and international grape varieties to produce sophisticated wines that are widely admired by critics and casual wine lovers alike.
About Colangelo & Partners
Colangelo & Partners is the leading fine wine and spirits integrated communications agency in the United States, sought after by top brands and industry players for the quality of their results, creativity, and return on investment. The professionals at Colangelo & Partners work with integrity and passion to influence how US audiences perceive their clients: Earning consistent, high-quality positive media coverage; organizing signature events; strategizing and executing standout digital campaigns; and implementing trade programs that strengthen relationships within the industry. Colangelo & Partners' clientele includes global, instantly-recognizable brands and passionate, up-and-coming vignerons and distillers; regional and national institutions; and technology and e-commerce companies innovating in the beverage alcohol sector. http://www.colangelopr.com