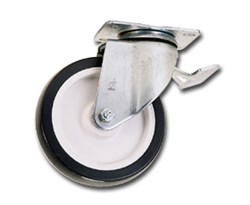 If you don't love casters you really should, especially these super lock brake casters
Boston, MA (PRWEB) August 29, 2013
It is an extremely difficult task to pick a product of the day. Products of the day are always items that A Plus Warehouse wishes for customers to recognize. It is an item that the company wants to draw more attention towards. Everyday, A Plus Warehouse picks products from different parts of the website to focus on. Today's product of the day is from the caster section. This caster is the super lock brake caster. According to Ed Stairman, president of A Plus Warehouse, "If you don't love casters you really should, especially these super lock brake casters."
This caster is an industrial caster. A Plus Warehouse is an expert in the sale of industrial casters. In fact, industrial casters are the only type the company offers. Other types of casters are relegated to consumer superstores. However, many superstores cannot handle industrial casters. What is an industrial caster a customer may wonder. If a customer wants to move something heavier than a grapefruit that is a good hint the customer needs an industrial caster. It is also a good hint if a customer cannot find the caster they need in their local grocery store.
When ordering a caster from A Plus Warehouse, customers are aware that they are only getting the best of quality. Casters are important to the A Plus Warehouse team. A Plus Warehouse casters are manufactured by trusted names such as Colson, Triopines, Hamilton, Fairbanks, and various others. All of these manufacturers have been in the trade for many years. If A Plus Warehouse can trust them so can customers.
It is now time to discuss the super lock brake caster. This item is made to exacting tolerances from heavy-gauge steel and hardening for durability. This caster is also a s wivel caster, featuring the two perfectly aligned swivel raceways. A picture of the caster is depicted to the right. The caster also features a SuperLock brake. This means that locking is extremely simples. Users just need to tap the brake with a touch of the toe. It is an extremely quick release. Best of all is that this item is in stock for immediate delivery. Customers should consider ordering now.
A Plus Warehouse is the operator of http://www.apluswhs.com and distributes materials handling and storage equipment nationwide and throughout Canada. The sales staff at A Plus Warehouse is available at 800-209-8798. A Plus Warehouse has been in constant operation since 1996.