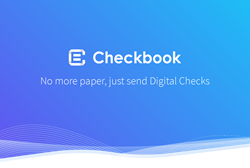 Today vendors, suppliers and consumers desire that funds will hit their bank accounts faster and effortlessly. Checkbook has innovated the instant payment solution with these factors in mind." - @MorningstarInc
SAN FRANCISCO (PRWEB) May 23, 2019
Anyone who's worked in the film industry will attest, getting paid on projects isn't always a smooth process. Whether the check was "lost in the mail" or "fell through the cracks," there is no shortage of reasons why payment was delayed. The underlying issue is that these industry professionals face a constantly changing work environment. Film projects are temporary places of work where skilled employees are hired to do their job until the project is finished. Castifi, a startup that built a platform for scheduling and time tracking for cast and crew members paid 50,000 people in 2018 alone. Quickly becoming the glue between operators like Casting Directors and production companies, the startup is helping protect both parties from security and fraud risks. Their team does this by onboarding users digitally and securely, and removing physical paper thereby preventing bank account numbers from being exposed.
Previously, they worked with solutions like PayPal, Zelle, Venmo, Deluxe eChecks, and finally found Checkbook through the startup ecosystem. The key differentiator with Checkbook is that they do not require Castifi's recipients to create an account. The talent is able to authenticate their bank account and quickly see that their money is en route.
"Many of the cast and crew members that we work with can't wait 2-3 weeks to get paid, which is currently the industry norm. Our users regularly tell us about the difficulties of managing everyday expenses and uncertainty around when they will get paid. Finding a solution like Checkbook.io has allowed our users to get paid within 1-2 business days which is a game changer for our core business," says Castifi's CEO Rum Sheikhani.
Checkbook provides the recipient with a number of options to cash their Digital Check completely online. They can either verify their bank account and deposit it online, print their check at home and do a mobile deposit, or input their Debit Card to receive their funds instantly.
About Castifi
Castifi is a hub for work, for event and media production managers. It's a place where teams come together, careers grow, and information is always at your fingertips.
About Checkbook
CheckBook Checkbook is a secure payment solution that uses Digital Checks to enable consumers to seamlessly receive payments online without having to enroll in any wallet.
https://checkbook.io/