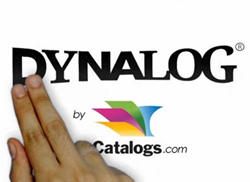 Dynalog appeals to the tech-savvy furniture and home decor consumer.
Fort Lauderdale, Florida (PRWEB) May 12, 2015
Catalogs.com's Dynalog will take center stage at the 2015 Home Furnishings Networking Conference May 17 through 19 in Orlando, where this furniture shopping technology service will become available for major retailers that want to join the ranks of Bombay, Art Van Furniture and Van Dyke's.
The Dynalog, a snappy, ultra-portable and innovative catalog-to-go will be available for real-time demonstrations at the HFNC via Richard and Leslie Linevsky, co-founders of Catalogs.com. A handful of authorities in the home furnishing industry are already using the Dynalog to showcase their products in an interactive, responsive format.
"We're expanding the market for Dynalog," says Richard Linevsky, "and we'll be showcasing this new home furnishings vertical at the conference so other furniture and home décor retailers can enjoy the same results that Relax the Back, OverstockArt.com and Perla Lichi are seeing. The click-through and conversion rates have surpassed our most optimistic predictions, which is extremely exciting for us and for all of our clients."
The Dynalog uses a slick, easy-to-navigate format that makes a huge visual impact, unlike traditional PDF catalogs and clunky, bogged-down websites that aren't anywhere near as interactive.
"We're using the Dynalog to showcase our line of home furnishings," says Janet Verdeguer of Perla Lichi International. "It's been a superior sales tool for our company because of its social features, crisp imagery, and versatility. We only need to share a link one time and the Dynalog evolves with our new products, so it's simple, cost-effective and really brings in results."
Interactive content is 34 percent more likely than passive content is to generate conversions, according to Kapost, which explains why it's the ideal replacement for traditional marketing techniques in the home furnishing and décor industries.
With presentations on rebranding, emerging tech strategies and online brand building, the 2015 HFNC is the ideal place for retailers to learn about the Dynalog's significant advantages. The 3-day event features presentations by Mitch Joel, president of Twist Image and Peter Sheahan, founder and CEO of ChangeLabs. Tech companies, PR reps and a variety of other industry-specific firms will hold booth spaces throughout the Exhibitor Showcase.
"This is exciting for furniture retailers and manufacturers because they're in the middle of a paradigm shift. They're being forced to come up with new approaches that appeal to a younger, more tech-savvy market and the Dynalog is precisely what works," says Linevsky. "We're extremely proud to be one of only 46 exhibitors in this year's Home Furnishings Networking Conference."
Catalogs.com will exhibit Dynalog at Table G3, directly across from the Fiesta Ballroom's stage at the Disney Coronado Springs Resort, Orlando, Florida.
About Catalogs.com
Since 1996, Catalogs.com has connected shoppers and the products they love. With the company's new Dynalog dynamic catalogs, they provide simple, accessible shopping from more than 700 major and specialty retailers through mail, online and mobile platforms.