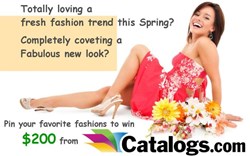 Fort Lauderdale, Florida (PRWEB) February 14, 2014
Pinterest users can earn a chance to win a $200 gift card from Catalogs.com by pinning and sharing their favorite new Spring fashion or accessory. Followers enter the contest by connecting through the "Fabulously Fresh Spring Fashion Trends" contest tab at the Catalogs.com Facebook page. Entrants must submit the url of their favorite fashion pin to compete. The contest runs through Wednesday, February 26, 2014. The winner will be selected randomly from qualifying entries and announced on February 28.
"Last Spring we ran a Pinterest contest with a Spring fashion theme that was very popular, so we decided to hold one this season, too," says Catalogs.com co-founder Leslie Linevsky. "This year, the contest is simple and really fun, so we hope to get even more entries. All people have to do is pin their favorite Spring fashion trend to any one of their own Pinterest boards, and then share that one pin with us through our Facebook page. We are excited to see which new looks people are really loving for their warm weather wardrobes."
The Catalogs.com Pinterest contest suggests that entrants find inspiration and pin the latest clothing and accessories from any of the hundreds of online stores and catalogs featured at Catalogs.com. Entrants can also share their favorite new styles trending on Pinterest.
"Pinterest is an engaging visual collection of everything from exotic landscapes to popular recipes and craft projects, but when seasons change, women are making wishlists of pieces to update their wardrobe, and fashion rules," says Linevsky. "We will repin all of the entries to the contest and will end up with an inspiring, user-generated collaborative Pinterest board showcasing the most coveted looks for this Spring."
About Catalogs.com
Since 1996, shoppers have universally recognized Catalogs.com as a trusted shopping portal. The comprehensive Catalogs.com website and newly launched Dynalog dynamic catalogs for desktop and iPad, feature over 740 major and specialty retailers, and provide shopping access via web, iPad and mobile phone platforms. Catalogs.com fans connect with the brand on social networks Facebook and Pinterest.