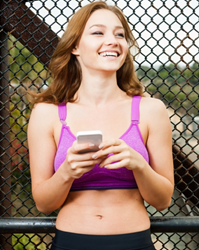 Techie sports gadgets give runners and other fitness buffs a competitive edge. - Catalogs.com co-owner Leslie Linevsky
Fort Lauderdale, Florida (PRWEB) April 22, 2014
The never-ending race to lose weight, build personal fitness and control health conditions has a powerful new tool in the expanding gamut of high-tech gadgets designed for every sport.
"The hottest fitness gadgets have much greater functionality than the pedometer of ten years ago," says Catalogs.com co-founder Leslie Linevsky. "They are smarter, more accurate and often connect to your own technology, like your computer. Many come with mobile apps or websites to give a more complete picture of the user's physical lifestyle. For example, the most popular digital pedometer-heart rate monitor at Gander Mountain is also a USB device that plugs into your laptop to download your workout stats and track your performance over time."
Sports accessories are quickly becoming the preferred method of fitness tracking: last year more than one-third of the 70 percent of people who track personal fitness data reported graduating to some form of technology instead of jotting workout data in a journal or keeping fitness stats "in their head." (Pew Research Center Internet & American Life Project, January 2013)
"The health and fitness industry has entered a new era as fitness and technology blend together," agrees Rob Murdock, Vice President and General Manager of Direct for Nautilus Inc., makers of Bowflex exercise equipment. "We're introducing technology to our products in new ways that enable people to better track, connect and share their fitness progress."
"Industry experts report that smart, wearable sports trackers are this year's fitness trend, dominating the 2014 Consumer Electronics Show," says Linevsky. "We see that smartwatches, intelligent jewelry, fitness trackers and tech-friendly sleep aids are all top sellers at sports and fitness stores and catalogs."
Murdock points to Bowflex BoostTM as an example of cutting-edge advanced fitness technology. The smart activity tracker measures steps, calories burned, distance traveled and even sleep quality to motivate positive fitness choices.
Steve Canham, Vice President of Marketing for Wolverine Sports concurs, "We carry more than 80 timers and stop watches, and at least 30 types of pedometers, and all of them have become more technologically sophisticated, more accurate and more professional in recent years. This is partly to position themselves far above the very basic apps - like stopwatches and pedometers - available on most smartphones. Fitness buffs, serious athletes, coaches, and sports officials don't pull out their phone, they are buying tech gadgets that are made specifically for their sport, like swimming or distance running, and they are demanding advanced functionality."
Tracking fitness data can help someone stick to a weight loss or cardio routine Canham concludes. "Everyone from marathon runners to stationary bike riders can use sports technology to set their pace and record their progress, which builds confidence and a positive attitude toward improving health."
About Catalogs.com
Since 1996, shoppers have universally recognized Catalogs.com as a trusted shopping portal. The comprehensive Catalogs.com website and newly launched Dynalog dynamic catalogs for desktop and iPad, feature over 740 major and specialty retailers, and provide shopping access via web, iPad and mobile phone platforms.