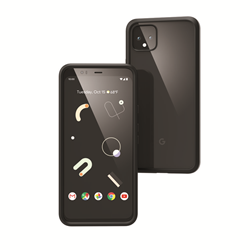 "We continue to innovate and design cases so a broader segment of the market can experience the difference a Catalyst case can make in their confidence to live their adventure freely," June Lai
LAS VEGAS (PRWEB) October 16, 2019
Catalyst, the award-winning manufacturer of the world's most protective and stylish cases and accessories for smartphones and electronic devices, introduces the Impact Protection Case for the new Google Pixel 4 and 4 XL. The new cases extend the offering of Catalyst solutions for Android devices, which include the Impact Protection cases for the Samsung Galaxy S10 and S9 series as well as the Note 9. The release of the Impact Protection Case for Pixel 4 and 4 XL come just after Google's launch of the new devices in their address to consumers and stakeholders on October 15.
"The Catalyst Impact Protection case continues to be upheld as the toughest everyday case on the market," said Catalyst CEO June Lai. "We continue to innovate and design cases so a broader segment of the market can experience the difference a Catalyst case can make in their confidence to live their adventure freely without worry of damage to their device. We're extremely proud of our design and excited for the first time, to launch cases for Google devices."
The Impact Protection Case for Google Pixel 4 and 4 XL is tested to be drop proof up to 9.9ft (3.0m), it is designed with a non-slip rubber bumper made from a proprietary impact rubber polymer, and has a clear back to show-off the phone. A raised top and bottom bezel protects the display, front camera, and other important touchscreen features while being simple to install and remove. The exposed screen allows for direct touchscreen access and the open ports give unobstructed access to the USB-C audio and charging port. The rear cameras are sealed and protected to keep out dust and debris. The case is compatible with Google's "Active Edge" technology and also allows for wireless charging.
The new cases are available now and shipping globally, providing a fresh, sleek design that showcases refinement in performance and style while offering the highest level of protection.
Catalyst Impact Protection Cases for the Google Pixel 4 | Pixel 4 XL
Available Now | $39.99 USD
Colors: Stealth Black
The Catalyst Impact Protection Case for the Google Pixel 4 series has the signature features Catalyst is recognized for: a grippy rubber bumper, lanyard attachment and clear case back to show off your Google Pixel 4 and Google Pixel 4 XL phone. The slim, protective case 100% fits the Google Pixel 4 series' screen profile and has added impact protection from the innovative truss cushioning system combined with a proprietary rubber polymer blend to increase the drop protection up to 9.9ft (3.0m). The Catalyst Impact Protection Case for the Google Pixel 4 and Google Pixel 4 XL is easy to put on and take off that it provides ideal everyday protection that doesn't overshadow the phone's stylish design.
About Catalyst
Catalyst is a premium lifestyle accessories brand founded to create iconic products that enable people to explore and share their world. Catalyst offers the highest performance accessories that are the best value for their customers. Josh Wright is an award‐winning industrial designer who graduated from the Art Center College of Design and June Lai is the research, development and business partner at Catalyst. In 2010, after seeing a requirement for a product that fit their needs but did not yet exist, they designed and developed a line of high-performance everyday case, accessories and sleeves for their many outdoor and underwater adventures. Catalyst is available in more than 70 countries including USA, Canada, UK, Germany, China, Japan, Korea, Australia and the GCC.
For high resolution images please visit our press gallery.