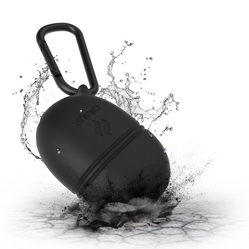 "Our cases have proven to be a top choice for customers when it comes to protecting their devices," June Lai
LAS VEGAS (PRWEB) June 22, 2020
Catalyst, the award-winning manufacturer of the world's most protective and stylish cases and accessories for smartphones and electronic devices, introduces the first waterproof case for Google Pixel Buds (2nd Gen). The cases are waterproof to 3.3 ft (1m) and can be disinfected using 70% isopropyl alcohol, allowing users to maintain consistent hygiene practices for their electronic devices, keeping them free of germs and bacteria. The cases are sold exclusively on Amazon.com and Catalystcase.com and are a perfect pairing for Catalyst Impact Protection case for the Pixel 4 and 4XL released earlier this year.
The Catalyst Case for Google Pixel Buds (2nd Gen) was created, developed and packaged with high quality and durable materials, providing the Google Pixel Buds (2nd Gen) with waterproof protection to a high degree: The case offers an IP67 waterproof rating to 3.3ft (1m) and drop proof protection to 4ft (1.2m). They are available in Stealth Black and retail for $29.99 USD.
"We're excited to expand Google's availability of Catalyst cases with the first Waterproof case for Google Pixel Buds (2nd Gen)," Catalyst CEO June Lai said. "Our cases have proven to be a top choice for customers when it comes to protecting their devices, providing unmatched style, convenience and the only waterproof solution on the market."
Catalyst Waterproof Case for Google Pixel Buds (2nd Gen)
$29.99 USD | Pre-order
Colors: Stealth Black
The Catalyst Waterproof Case for Google Pixel Buds (2nd Gen) is the first of its kind anywhere. This waterproof and drop proof case means that users can easily take their Google Pixel Buds (2nd Gen) anywhere without the worry. Made from soft silicone to protect from scratches and scrapes, the waterproof and drop proof protection for the Google Pixel Buds (2nd Gen) case allows easy access to the charging port and comes with a detachable carabiner so it can be easily hooked it on to a belt, bag or purse.
About Catalyst
Catalyst is a premium lifestyle accessories brand that designs and manufactures iconic products for people, businesses and organizations that can help them protect their personal devices, company assets and health. We are a company of problem solvers with a history of invention. Our expertise in product design and engineering allows us to create solutions to global problems with profound potential. Josh Wright is an award‐winning industrial designer who graduated from the Art Center College of Design and June Lai is the research, development and business partner at Catalyst. For over 10 years, the unrivaled range of protective cases have allowed users to experience life on their own terms while always keeping their valuable devices safe and secure. Catalyst is available in more than 70 countries including USA, Canada, UK, Germany, China, Japan, Korea, Australia and the GCC.
For high resolution images please visit our press gallery.