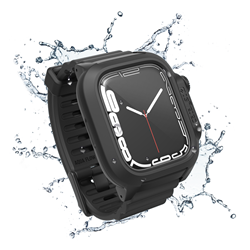 "The Total Protection Cases provide serious protection that consumers will not be able to find anywhere else for their new AirPods and Apple Watch," Catalyst CEO June Lai
NEW CASTLE, Del. (PRWEB) June 14, 2022
Catalyst, the award-winning marker of innovative and stylish protective cases for smartphones and electronic devices, today announces the introduction of the Total Protection case for AirPods (3rd Generation) and Apple Watch Series 7. The cases are completely waterproof to 330ft (100m), made of tough, washable polycarbonate and are easy to disinfect with EPA approved disinfectants. Both products provide the highest level of 360 protection available.
"The Total Protection Cases provide serious protection that consumers will not be able to find anywhere else for their new AirPods and Apple Watch," Catalyst CEO June Lai said. "These 100% waterproof cases can withstand well beyond the average wear and tear most cases go through while keeping with a classic design and rugged style."
The Total Protection Case for AirPods (3rd Generation) is fully sealed, IP68 certified and can be submerged up to 330ft/100m for total and complete protection. This case allows for drop protection up to 10ft/3m and can be washed with soap and water to reduce the amount of dirt and impurities on the surface can be cleaned using 70% isopropanol or 70% ethanol. The Total Protection Case comes with a carabiner that easily hooks on to a belt, bag or purse. It's compatible with wireless/QI charging pads. There is also a waterproof plug for easy access to the standard lightning cable. The charging light is visible through the case, allowing users to be aware of the battery life of the device.
The Total Protection Case for Apple Watch Series 7 is built for adventure, exceeding military standards (MIL-STD-810G) for shocks and drops up to 6.6ft (2m) and can be submerged to up to 330ft (100m), offering 2X more waterproof protection than the Apple Watch. The material is rugged, shock-resistant and scratch-proof. The case can also be easily customizable with the Catalyst's line of colorful Sport Bands.
The case keeps devices protected and can be used with many of its functions, including, touchscreen, Bluetooth, optical heart sensor, speaker and microphone. The rotating digital crown and side button are fully protected and easily accessible.
All-new cases and accessories are available for pre-order now on catalystcase.com.
Total Protection Case for AirPods (3rd Generation)
$49.99 USD
Colors: Stealth Black
Total Protection Case Apple Watch Series 7 (45mm)
$74.99 USD
Colors: Stealth Black
About Catalyst
Catalyst, through Labworks International Design Limited, is a design and innovation company that has built a global brand creating and manufacturing protection for electronic devices. Through precision engineering, Catalyst products are designed to help people, businesses and organizations protect themselves and their personal devices and company assets. For over 10 years, their range of protective cases have allowed users to experience life on their own terms while always keeping their valuable devices safe and secure. Catalyst is available in more than 70 countries including the USA, Canada, UK, Germany, China, Japan, Korea, Australia and the GCC.