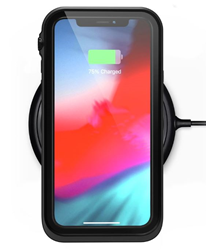 "Our team has been working hard to ensure consumers will be able to arm their new and expensive devices with the protection they've come to know and trust from Catalyst." - CEO June Lai
LAS VEGAS (PRWEB) December 03, 2018
Catalyst, the award-winning manufacturer of protective waterproof cases, today announces the 100% waterproof case for the iPhone Xs and Xs Max are available today, in time for the Holidays. Waterproof cases for iPhone XR are available for pre-order and will be ready to ship after the New Year. The case offers the same industry-leading waterproof rating as the Catalyst case for the iPhone X, which boasts up to 33ft (10m) waterproof protection and 6.6ft (2m) drop protection.
"The new line of iPhones have been extremely popular with early adopters and we anticipate the holiday shopping season will dramatically increase the sale of new iPhones," Catalyst CEO June Lai said. "Our team has been working hard to ensure consumers will be able to arm their new and expensive devices with the protection they've come to know and trust from Catalyst."
In addition to the new waterproof cases, Catalyst has a number of recent product releases to ensure the best everyday protection for the latest devices. The Catalyst Impact Protection Cases for iPhone Xs, XR and Xs Max carry the same high-performance and protection standards that Catalyst is known for. These cases have one of the highest drop specifications on the market and are designed and engineered to give customers the confidence to bring their phone on any everyday adventure.
Another great gift for the Holiday's for the avid traveler or everyday adventurer is the Catalyst waterproof 20L backpack. Built with flexibility in mind, it packs down to fit into your palm and weighs 180g so it's easy to toss into a tote or luggage and is perfect to pull out for a day trip anywhere or those times when you just need extra storage to carry things around. The backpack is designed with material tested to withstand 10,000 mm of water and packs down to fit in the palm of your hand. It combines the versatility, usefulness and comfort of a normal backpack with the waterproof capabilities that Catalyst is globally recognized for.
Catalyst Waterproof Case for iPhone Xs / XR / Xs Max
iPhone Xs US $89.99 | Available now in Stealth Black
iPhone XR US $89.99 | Available FOR PRE-ORDER December 14 in Stealth Black
iPhone Xs Max US $99.99 | Available now in Stealth Black
The Catalyst waterproof case for the iPhone Xs / XR / Xs Max is an evolution of our high-performance waterproof and drop proof cases. With 33ft (10m) waterproof protection and 6.6ft (2m) impact protection, this case is the industry leader in slim everyday waterproof cases. Catalyst is known for having superior acoustic performance that features with our patented True Sound Acoustic Technology™. The ultra-slim profile and clear front and back housing compliments and showcases Apple's iconic design beautifully without sacrificing the industry leading protection Catalyst is known for.
Catalyst Impact Protection Case for iPhone Xs / XR / Xs Max
iPhone Xs/XR US $39.99 | Available Now in Stealth Black, Clear, Blueridge/Sunset
iPhone Xs Max US $49.99 | Available Now in Stealth Black, Clear, Blueridge/Sunset
The Catalyst Impact Protection Case stays true to our signature features: with a grippy rubber bumper, lanyard attachment, rotating mute switch and clear case back to showcase your iPhone.
This design has an angular modern form for the new iPhone Xs/XR/Xs Max and added drop protection from an innovative truss cushioning system combined with a proprietary rubber polymer blend to increase the drop spec to 9.9ft (3m) while a raised bezel protects the screen. The open port gives unobstructed access to the charging port and the rear camera is sealed and protected to keep out dust and debris. The slim, protective case protects your iPhone from scratches and drops and is fully compatible with Wireless Charging. The Catalyst case is designed to be your iPhone's best friend for everyday urban adventures.
Catalyst Waterproof 20L Backpack
US $119.99 | Available Now in Stealth Black
The Catalyst Waterproof 20L Backpack is the perfect size for every adventure and packs down so it fits in your palm and can go everywhere with you. Designed with material tested to withstand 10,000mm of water and seam welded to protect valuables stored in the main compartment, this ultra-light waterproof bag features one of the highest tested waterproof ratings in bag construction materials. This lightweight pack comes with a compact carry pouch allowing users to unpack the backpack quickly, mesh shoulder straps are breathable and quick drying, deep 9" side pockets to hold a water bottle and large roll top closure that fits even the bulkiest items. The adjustable sternum strap with whistle is attached to the shoulder straps and the tapered overall profile allows for better weight distribution making this waterproof backpack comfortable to carry on even the longest days.
About Catalyst
Catalyst is a premium lifestyle accessories brand founded to create iconic products that enable people to explore and share their world. Catalyst offers the highest performance accessories that are the best value for their customers. Josh Wright is an award‐winning industrial designer who graduated from the Art Center College of Design and June Lai is the research, development and business partner at Catalyst. In 2010, after seeing a requirement for a product that fit their needs but did not yet exist, they designed and developed a line of high-performance everyday case, accessories and sleeves for their many outdoor and underwater adventures. Catalyst is available in more than 70 countries including USA, Japan, Germany, Australia, China and the GCC.
For high resolution images please visit our press gallery.