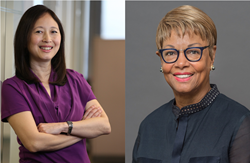 "Minna and Marsha have unparalleled expertise in leading growth in these sectors and I am honored to be serving together with them." - Jacob Hsu, CEO of Catalyte
BALTIMORE (PRWEB) June 08, 2021
Catalyte, in order to better supply employers with productive, diverse and cost-effective technology talent they need, has created two new business units – Digital Services: Commercial and Digital Services: Public Sector. The company has hired Minna Rhee as the chief strategy officer for the commercial unit and Marsha Malone as chief strategy officer for the public sector. They join Greg Sybersma, chief strategy officer for the Apprentice business unit.
"There is universal need across employers, both public and commercial sector, for more productive, diverse and cost-effective technology talent," said Jacob Hsu, CEO of Catalyte. "The difference is in how each market is able to recruit and hire non-traditional talent, like our amazing apprentice developers. By establishing these new business units, we can better serve each market and open thousands of new opportunities for Americans from all backgrounds to be retrained and enter the technology industry. Minna and Marsha have unparalleled expertise in leading growth in these sectors and I am honored to be serving together with them."
Minna Rhee joins Catalyte as chief strategy officer, digital services - commercial. She will also serve as chief executive officer of Surge – a Catalyte company. She has extensive history leading international sales organizations and driving revenue growth for digital and technology companies. Most recently, she was president of BORN Group where she oversaw over $100M in revenue. She has also served as chief revenue officer at frog, developing a scalable, revenue generating sales and marketing organization, and chief digital, product and marketing officer at SourceMedia.
"In my career, I've witnessed that across disciplines, levels and geographies, diverse teams produce better work," said Rhee. "I'm excited to mentor and grow diverse talent at Catalyte to deliver clients the best ideas and solutions. What we have is the potential to close the tech talent gap once and for all."
Marsha Malone joins Catalyte as chief strategy officer, digital services - public sector. She brings deep IT leadership experience in commercial and government contracting to expand federal, state and local market opportunities for Catalyte. She was vice president of federal sales at WebEx, led successful federal contract bids at Lockheed Martin worth over $565M and brought new IT services to multiple federal law enforcement agencies. Marsha also received the 2014 Black Engineer of the Year Awards for Technical Sales and Marketing.
"Governments at all levels have an immediate and growing need for top technology talent, and are starting to employ new sourcing methods that look beyond the traditional four-year degree requirement," said Malone. "This is crucial for agencies to be able to hire the highest level of talent at the lowest cost. Catalyte stands ready to provide public sector clients a pipeline of highly productive, diverse and sustainable tech talent to meet their agency missions and better serve their citizens and constituents."
About Catalyte
Catalyte's ability to discover, train and advance tech talent from non-traditional backgrounds simultaneously solves the overall tech talent shortage and helps employers diversify their technology workforces. Its data and technology platform predictably creates new, high-performing software developers. Catalyte's national network of companies provides on-demand access to exceptional software engineering experts at all levels, allowing clients to flexibly scale technology resources when and how they need them. Catalyte is headquartered in Baltimore and has talent hubs in Boston, Chicago, Denver, Phoenix-Scottsdale, Portland, Ore., Columbia, S.C. and Wichita, Kan. For more information, visit http://www.catalyte.io.
Media contact
Adam Curtis
Catalyte Communications Director
acurtis@catalyte.io