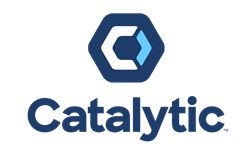 "I'm honored to be named one of Chicago's top 50 tech leaders. I couldn't be more proud of my team and the work we're doing at Catalytic," said Sean Chou, CEO and co-founder of Catalytic.
CHICAGO (PRWEB) July 15, 2020
Sean Chou, Co-Founder and CEO of Catalytic, the easiest-to-use, next-generation digital process automation platform, has been named to Crain's Chicago Tech 50 List, which honors pioneers and leaders in Chicago's technology scene.
As Catalytic has grown over the past five years, Chou has remained steadfast in his vision to create a truly no-code platform that makes automation accessible to all, increases operational agility and allows employees to focus on their most meaningful work, rather than the monotonous. This vision has positioned Catalytic as a trusted partner to companies looking to evolve into a leaner, faster and more digitized version of themselves.
"I'm honored to be named one of Chicago's top 50 tech leaders. I couldn't be more proud of my team and the work we're doing at Catalytic," said Chou. "By augmenting human capabilities with technology like automation, people are free to refocus their efforts and use their intelligence, creativity and relationship-building to achieve unrivaled business outcomes."
The Tech 50 from Crain's Chicago Business shines a spotlight on the names the Chicago technology community needs to know. Since its inception, nearly 400 industry leaders, experts and visionaries have joined the ranks of the Tech 50 each year. For its 10th edition this year, the Tech 50 chose those individuals with an eye toward making a lasting impact within their respective industries.
On average during the first six months of use, Catalytic customers build more than 50 automations, saving them 34,482 work hours and $1.54 million in operating costs. This is largely due to Chou's leadership and goal to be the easiest-to-use process automation platform that streamlines business operations.
Under Chou's direction, Catalytic has secured a total of $41.5 million in funding since its founding in 2015, including a $30 million investment last year led by Intel Capital. In 2019 alone, the company tripled its revenue and grew its monthly active user base by 252%.
Prior to founding Catalytic in 2015, Chou held the role of founding Chief Technology Officer and EVP of Services at Fieldglass, where he led strategy and development of the company's award-winning cloud solution. Chou helped lead Fieldglass to a $1 billion acquisition by SAP in 2014. He launched his career at the University of Illinois at Urbana-Champaign, graduating magna cum laude with a Bachelor of Science in Psychology.
For more information about Catalytic, please visit: http://www.catalytic.com
###
About Catalytic
Catalytic, the next-gen digital process automation provider, supercharges employee productivity with smart workflows. Using Catalytic, anyone can easily build low-code automations that connect systems, data and people so companies can execute higher volumes of work with less time, cost and risk.
In one collaborative platform, IT and non-technical users alike can embed AI, integrations, and data analysis tools into everyday operations. Then, recurring information gathering, document processing, decision-making and reporting become more automatic, rapidly boosting operational efficiency and transforming organizations at scale.
Proven by customers like Bosch, Dentsu Aegis Network, Edwards Elmhurst Hospital, Mayo Clinic, TalentWave, and UL, Catalytic is unlocking up to 5x returns, improving customer experiences and increasing competitive edge for companies globally. To learn more, visit:
https://catalytic.com/