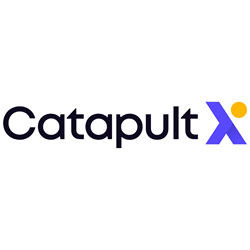 CatapultX is a clear winner in the future of digital sponsorship in sports and eSports.
NEW YORK (PRWEB) April 28, 2021
CatapultX, creator of the On-Stream™ video monetization and contextual AI platform, today announced it was the most selected company for pilots by sports partners through the HYPE Sports Global Virtual Accelerator (GVA) 2.0 program, solidifying the company's technology is a critical tool for the future of fan engagement and monetization.
Through GVA 2.0, CatapultX secured partnerships with 20 leading sports brands, clubs, leagues, federations, broadcasters, eSports, and gaming as well as sports betting organizations. It was selected for pilots with DAZN, Deutscher Fussball-Bund (DFB), Eurovision Sport, NHL Las Vegas Golden Knight, NBA Milwaukee Bucks, NFL Minnesota Vikings, ESLGaming, esportsTV, VRT, 888sport, ESTV and more. These initial partnerships have also led to discussions with several sports teams and organizations outside of the accelerator program.
Ryan McCumber, Founder SportsTech.ai and the overall creator and Program Director for the HYPE Global Virtual Accelerator 2.0, said, "CatapultX is a clear winner in the future of digital sponsorship in sports and eSports. CatapultX's mission to revolutionize video caught our attention from the early stages of selecting companies for the accelerator, so we are thrilled to see their innovative solution resonated with so many partners."
The GVA 2.0 startup accelerator program is the first global sports innovation network, hosted by academic institutions and sports clubs. The HYPE GVA 2.0 helps startups from all over the world to convert their ideas into bona fide innovations and solutions, showcase them on the world stage and offer various opportunities to connect, learn from and interact with industry leaders.
To even participate in the accelerator program, CatapultX was selected to join the accelerator from more than 1,400 startups who applied for GVA 2.0 based on the program's deep understanding of the partners' needs and challenges.
CatapultX CEO and founder Zack Rosenberg, "Sports and eSports fans can get extremely annoyed by anything that interrupts their games, especially advertising. Annoyance is not the emotion that any brand wants to accomplish with their sponsorship. These international organizations have clearly seen it all, but they'd never seen anything like our On-Stream platform before now. We are thrilled that HYPE GVA 2.0 and so many of their partners recognize the importance of a non-interruptive and more engaging advertising experience and connection between fans, sports organizations and brand sponsors for the future of sports."
To learn more or sign up for a demo of the CatapultX On-Stream platform, please visit: https://www.catapultx.com/.
About CatapultX
Headquartered in North America, CatapultX is a global audience engagement technology company that is known for its On-Stream™ Video Monetization & Contextual AI Platform. CatapultX's pioneering platform is ending interruptive advertising as we know it by making it possible to serve ads within digital media and gaming content across every channel. Using CatapultX, advertisers can now deliver their brand messages at the moment of highest relevance and impact. Publishers can now maximize revenue potential from every video, across any channel. CatapultX is backed by Quake Capital, Plug and Play Ventures and HYPE Capital. http://www.catapultx.com