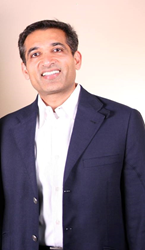 I take pride in being able to offer my patients the most current surgical options in cataract surgery.
Atlanta, GA (PRWEB) December 19, 2014
The Atlanta Vision Institute for LASIK surgery is currently providing one of the latest and most advanced cataract surgery options. Board certified Ophthalmologist and Medical Director Dr. Farooq Ashraf utilizes the LensX Femtosecond Laser to perform fine surgical procedures, traditionally only able to be done by hand during cataract surgery. This laser-assisted cataract surgery method has improved precision and offers many benefits over traditional surgical methods.
Cataract can occur in one or both eyes and is caused by changes in the tissues that make up the lens of the eye, whether due to aging, genetics or eye trauma. Cataract causes light to scatter as it passes through the eye, preventing sharply focused images from reaching the retina so vision appears foggy or clouded. Advanced cataracts require surgical intervention in order to preserve or restore vision. The LensX Femtosecond Laser provides a level of accuracy that exceeds that of other manual cataract surgery methods. Benefits include improved lens positioning, decreased eye trauma, as well as more predictable and precise vision results.
Dr. Ashraf has been using femtosecond lasers to perform eye surgery for the past ten years and is among the top most experienced ophthalmologists using the technology.
"I take pride in being able to offer my patients the most current surgical options in cataract surgery. For the past decade I have been performing laser-assisted cataract surgery in order to restore patients' vision, which leads to improvement in their overall quality of life," says Dr. Ashraf. "I know any of my patients who undergo this procedure will be happier with the outcome."
Cataracts are degenerative and require treatment to preserve or restore vision. To find out more about laser-assisted cataract surgery with Dr. Ashraf, contact the
Atlanta Vision Institute.
About the Atlanta Vision Institute:
Dr. Ashraf is the founder of the Atlanta Vision Institute and is a board-certified ophthalmologist who specializes in corneal and refractive surgery, as well as other treatments for astigmatism, glaucoma, cataracts and other eye conditions. He obtained his advanced training in ocular surgery at Johns Hopkins University and has performed over 40,000 LASIK procedures. In addition to his Atlanta practice, Dr. Ashraf has also founded the Atlanta Vision Clinic in Dubai, UAE. For more information, visit http://www.atlanta2020.com.