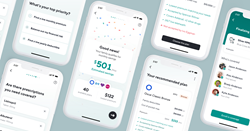 "The first of its kind. Catch helps independents put their paychecks, savings, investment, and health insurance all in one place."
BOSTON (PRWEB) October 29, 2020
In a year that has been rocked by mass unemployment and rapid adoption of gig and freelance work, staying covered with quality health insurance is more important than ever. For those juggling multiple jobs in the uncertainty of a global pandemic, the confidence of getting an affordable health plan can make all the difference in the world.
Since its launch in 2018, Catch has been building new and innovative ways for independent workers to access meaningful benefits like tax withholding, time off savings, and retirement investment. Now, Catch is also offering an integrated system to provide high quality health insurance options directly to individuals and families who don't have access to employer-sponsored coverage.
Catch is working with the Centers for Medicare & Medicaid Services (CMS) to offer Enhanced Direct Enrollment (EDE), a system that allows for end-to-end plan shopping, subsidy evaluation, and enrollment in every state on the Federally-facilitated Marketplace.
Put simply, Catch customers who need health insurance this Open Enrollment (Nov 1 - Dec 15) will be able to compare options, see if they're eligible to cut costs with federal subsidies, and enroll in the right plan all within the Catch app or website.
One of Catch's customers, Luis Camacho of Phoenix, shares, "What's great about Catch is that it's built to help small business owners and freelancers with things like health insurance, tax withholding, and retirement all in one place."
"The first of its kind. Catch helps independents put their paychecks, savings, investment, and health insurance all in one place," says Kristen Anderson, co-founder and CEO of Catch.
"Financial and insurance products work together," says Andrew Ambrosino, Anderson's co-founder and the company CTO. "You have to build in a way that allows for synthesis of this data. People can't keep straight how subsidies change year over year, or what tax exemptions there are because of legislation passed during COVID. That's our job: provide an easy and elegant way to automatically take care of you and your family no matter what."
Catch is one of fewer than a dozen providers offering the Enhanced Direct Enrollment pathway and has undergone strenuous security and privacy auditing to ensure all customer data is protected.
In an effort to serve independent workers best, says Anderson, "We're the only provider to offer EDE mobile-first. That means we've designed the system primarily for people to use our app or a mobile website. It's extremely important to make complex processes accessible to those who don't necessarily have easy access to a laptop or home computer."
You can sign up for health insurance through Catch's EDE pathway at health.catch.co.