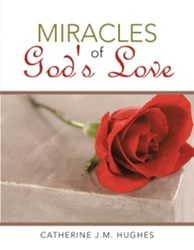 God is faithful and he will answer them and reveal his love and healing care.
GREATER MANCHESTER, England (PRWEB) May 19, 2017
Revealing the story of three miracles that dramatically changed her life, author Catherine J.M. Hughes releases her new book, "Miracles of God's Love" (published by AuthorHouse UK).
"In the book, I talk about coming to know Jesus at a church of England Sunday School when I was seven, and when I was fourteen after much suffering in my childhood, one night after a nightmare I was a wake for a while and I had a vision and an encounter with the mother of Jesus, which was so awesome," Hughes explains. "When I was seventeen, I died and went to heaven and I met Jesus face to face and Jesus sent me back. Then the third miracle was about a statue of our Lady that changed on a photograph, which is in the book."
Hughes adds that the book aims to help people who are suffering and heartbroken and encourage them to turn to God for help. "God is faithful and he will answer them and reveal his love and healing care," she says. "As in my case, which is extremely unusual, the Lord showed me his awesome love in three miracles."
"Miracles of God's Love"
By Catherine J.M. Hughes
Softcover | 8.5 x 11in | 40 pages | ISBN 9781504988230
E-Book | 40 pages | ISBN 9781504988247
Available at Amazon and Barnes & Noble
About the Author
Catherine J.M. Hughes was born in Doncaster, Yorkshire, in 1954. She lost her parents as a toddler and was fostered in South Croydon, Surrey, where she experienced her first miracle at 14, and at 17, she experienced her second miracle. She went to college and studied childcare and counseling at different phases of her life. She has four children and two grandchildren. She is also author of "A Flickering Light Becomes Aglow" and is co-author with her uncle, Norman Leslie Moors, of "The Mancunian Hero."
AuthorHouse UK Ltd., is an Author Solutions, LLC, supported self-publishing services and a leading provider of self-publishing, marketing and bookselling services dedicated to serving authors throughout the United Kingdom. AuthorHouse UK is committed to providing authors the best self-publishing experience through a wide array of products and services designed to help individual authors realise their unique creative vision. AuthorHouse UK consultants provide guidance to authors throughout the self-publishing process. To date, AuthorHouse UK has released more than 6,500 titles. For more information or to begin publishing a book today, visit authorhouse.co.uk or call 0800 1974150 or follow @AuthorHouseUK on Twitter for our latest news and updates.