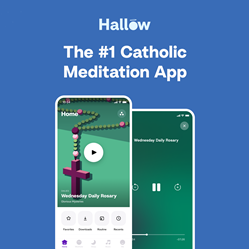 Every day we're humbled by the support of everyone in the Hallow community and are incredibly excited about this next phase in Hallow's mission.
CHICAGO (PRWEB) November 03, 2021
Hallow, the #1 Catholic prayer and meditation app, today announces it has completed a $40 million Series B round to help people around the world find peace in God, bringing the total raised this year to over $50 million. Amid the growing embrace of technology in religion, and during a time when many are stressed and anxious about the world around them, Hallow has surpassed 1 million downloads in just two and a half years.
Investors participating in the Series B round include Drive Capital, Peter Thiel, Teamworthy Ventures, Narya VC, Contrary Capital, Uncork Capital, Susa Ventures, and Scott Malpass - the only American appointed by Pope Francis to sit on the Board of the Vatican Bank. Drive Capital led the round. This round follows just a few months after Hallow's $12 million Series A round in April, led by General Catalyst.
Hallow will use the Series B funding to continue partnering with faith-based creators to build world-class content, make more of its over 3,000 meditations available for free, add new languages, and reach out to a broader group of unaffiliated or fallen-away Catholics and Christians. The Chicago-based company plans to scale hiring to double its mission-driven team.
"When we launched Hallow, we never could have imagined God making such a powerful impact on so many lives so quickly through this app," said Alex Jones, CEO & Co-Founder of Hallow. "Every day we're humbled by the support of everyone in the Hallow community and are incredibly excited about this next phase in Hallow's mission. We believe in the power of re-introducing folks to the beauty of the Church's centuries-old traditions of spirituality and are thrilled, with this new funding, to take a big step forward in helping the world find peace in God."
Unlike many meditation and sleep apps, all of the guided meditations on Hallow are rooted entirely in the Catholic Church's spirituality, teaching, and tradition. Hallow's welcoming, easy-to-use app combines life-changing spiritual content with modern technology and design, allowing users to step away from their daily distractions to spend time in silence through prayer.
Hallow recently crossed 1 million downloads and 25 million prayers completed with over 35,000 five-star reviews. Over the last year they have added many phenomenal faith leaders to the app including Bishop Robert Barron, Fr. Mike Schmitz, Dr. Scott Hahn, Leah Darrow, Sister Miriam James Heidland, Fr. Mark-Mary, Fr. Josh Johnson, Matt Fradd, Jonathan Roumie, David Henrie, Emily Wilson, Chris Stefanick, Bobby & Jackie Angel, and many more. Hallow has also formed a new Board of Advisors led by Bishop Kevin C. Rhoades. Available in the Apple App Store, Google Play Store, and Amazon App Store, Hallow is rapidly growing in popularity with 700% more prayers this month than during the same time last year.
"Hallow is an incredible mission-driven company that has already enriched the lives of so many people; and the amazing part is that Hallow is only getting started," said TJ Dembinski, a Partner at Drive Capital. "The global pandemic has accelerated the embrace of digital technology in every industry and in all aspects of our lives, and religion is no different. Hallow has a massive opportunity to bring faith into the hands of 1.3 billion Catholics around the world, as well as anyone in search of peace and comfort in their lives. We are excited to lead the Series B and proud to support the Hallow team as they continue their amazing work."
Anyone can download the Hallow app and access content for free. Hallow's subscription option, Hallow Plus, unlocks the full suite of content for $60 per year ($5 per month) after a 30-day free trial.
Hallow's Series B fundraise follows a $12 million Series A round led by General Catalyst in April of this year.
Media may refer to the Hallow Press Kit for additional background information and visuals.
--
About Hallow
Hallow is a Catholic prayer and meditation app that helps people deepen their relationship with God through audio-guided prayer, sleep, bible readings, meditations, and music. The app has over 3,000 sessions including a Daily Rosary, Daily Gospel, Daily Saint, Novenas, Examens, Fr. Mike Schmitz's Bible in a Year, Jonathan Roumie from The Chosen's Audio Bible, Bishop Barron's Sunday Sermons, peaceful Christian music, Gregorian Chant, Sleep Bible Stories, and so much more. Launched in December 2018, Hallow is now the #1 Catholic app in the world with over 25 million prayers completed across over 150 countries. Hallow's Board of Advisors is led by Bishop Kevin Rhoades and includes Fr. Mike Schmitz, Dr. John Cavadini & Fr. Kevin Grove from the University of Notre Dame, Lisa Hendey, Fr. Steve Gunrow from Word on Fire, Scott Malpass, Dean Abela from the Catholic University of America, Laura Fanucci, and Sr. Jaime Mitchell.
About Drive Capital
Drive Capital is a Columbus-based venture capital firm that is focused on investing in the world's next generation of market-defining companies. The firm started in 2013 and has raised over $1B of funds to invest in startups solving problems in large markets. Drive is an investor in more than 40 companies outside of Silicon Valley, including Duolingo, Root Insurance, and Olive.