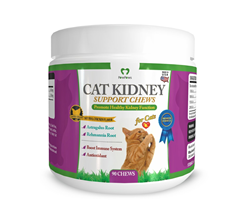 Cary, North Carolina (PRWEB) June 26, 2016
PawPaws brand pet supplements owned by Whole Health Supply is announcing the release of a new product that was developed to enhance the health of felines. The formula is all-natural and is made from Chinese herbs that have been harvested for centuries.
The two main herbs in the PawPaws Cat Kidney Support Supplement Soft Chews are Astragalus Root Extract and Rehmannia Root Extract which have been widely tested on animals for their antioxidant properties and ability to boost a cat's immune system.
Herbalists say that Astragalus root is an adaptogen herb that lowers the production of cortisol which is the stress hormone. Cat guardians can testify that many things that naturally occur during the day can cause stress to the domesticated feline. The Chinese have used this plant for over one thousand years as an immune system booster. It can act as an anti-inflammatory. The benefit of its polysaccharides is helping to heal wounds and lesions to reducing inflammation in diabetic kidney disease.
Kidney disease in diabetics is very common and some patients go on dialysis or even have a transplant. Recent studies have shown Astragalus can slow the progress of kidney problems in diabetics and protect the renal system. It is not unusual for an aging cat to develop diabetes.
The second major herb in the soft chew is Rehmannia Root Extract, also known as Chinese foxglove. It is a classic Chinese herb and adaptogen known for its ability to maintain kidney function and urine flow giving you a natural and effective way to help support the health of your feline. Foods and supplements containing adaptogens contribute powerfully to overall health and proper body function.
In the early days of Chinese medicine Rehmannia could be used for various illnesses and conditions such as treating fevers and loss of blood. In modern times it is an herbal agent treating hormonal disorders, thyroid imbalance and adrenal insufficiency.
As cats age, their kidney function often declines and many concerned cat guardians look for supplements that can help their cat's kidneys function properly to help provide the best life for their feline family member.
For additional information, visit http://www.amazon.com/dp/B01DFYUSCC.