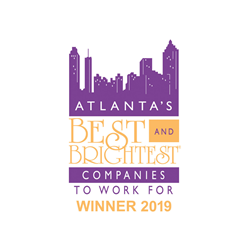 "I'm very excited that CATMEDIA won for the fourth year in a row. Company events and outings create a good work-life balance for our employees and allows us to create a very collaborative office environment," says Mila Seals, Project Manager / HR Generalist for CATMEDIA.
TUCKER, Ga. (PRWEB) May 22, 2019
CATMEDIA has won Atlanta's Best and Brightest Companies to Work for its fourth consecutive year!
The Best and Brightest Companies to Work For competition honors organizations that are committed to creating an excellent workplace environment through their human resource practices and employee enrichment. CATMEDIA has been on the prestigious list since 2016 and has also been named one of the National Best and Brightest Companies to Work For.
Each nominee for Best and Brightest undergoes an evaluation based on categories such as communication, work-life balance, employee education, diversity, recognition, retention, and more. The nominated companies then receive an overall assessment report that summarizes how they stack up against the other participating organizations. The assessment displays scores in the three highest and lowest areas, providing each company with possible opportunities for improvement.
Other notable Best and Brightest winners include Panasonic Automotive, T-Mobile and Turner. For more information on this year's winners, click here.