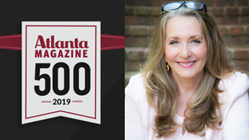 Downey was noted as saying, "Always pay your employees and vendors before you pay yourself."
ATLANTA (PRWEB) January 09, 2019
Kicking off the year with a bang, CATMEDIA is proud to announce that our CEO, Catherine Downey, has been listed in The Atlanta Magazine's Atlanta 500 list of Atlanta's top CEOs. In this list of Atlanta's most influential leaders, Downey is ranked at 55.
This recognition is the latest in a series of awards Downey and her company, CATMEDIA, have been awarded over the last decade. CATMEDIA is a marketing, training, and creative services company that prides itself on turning visions to motion.
Downey has spent the last year working with leaders in Atlanta to bolster CATMEDIA's profile while also finding opportunities to give back to the community. With CATMEDIA's broad project history and Downey's effective leadership style, the path to success for CATMEDIA has been paved with many successes.
Downey and CATMEDIA are proud of this recognition and would like to congratulate all the members and nominees of The Atlanta 500.
We are thrilled about our future and the future of the city that has allowed CATMEDIA to flourish for so many years.